South Africa is sitting on an environmental time bomb in the guise of acid mine water, contaminating precious ground and surface water in a country facing increasing aridification, says Professor Alison Lewis.
Water has become the country's most valuable resource. This is nowhere more evident than at community level, such as in Bloemhof in the North West Province where contaminated water killed several children and put many in hospital earlier this month.
One might think there'd be more creativity and innovation around preserving and maximising our water resources, said Professor Alison Lewis, head of the Department of Chemical Engineering.
Lewis was addressing guests at a recent Café Scientifique, or "science for the sociable" as it's dubbed, hosted among the permanent and 'visiting' visual treasures of UCT's Irma Stern Museum.
Water too cheap
There was an irony; as Lewis spoke about a resource "we pay far too little for", it was against a background of teeming June rain outside.
But that sense of abundance is mistaken, she noted. Though water covers most of the planet, only 3% is fresh water. And while the world's population tripled in the 20th century, demand for water grew six times.
In South Africa, much of that demand is from mines. But the legacy left is acid mine water and the giant brine ponds that remain after purifying acid mine water are a stark reminder of the waste created. Waste with nowhere to go.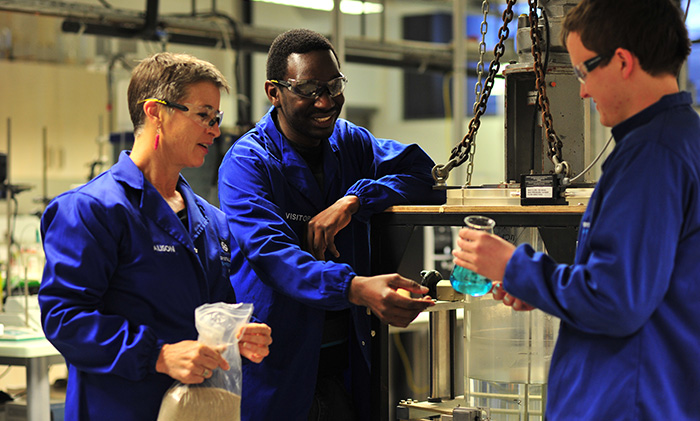 Alison Lewis with students Michael Kapembwa (left) and Timothy Egan.
It provided the title of her talk: Modern Alchemy: Making value out of waste.
To make value out of waste and tackle acid mine drainage, Lewis's research team offers a win-win solution: eutectic freezing crystallisation.
This process transforms acid mine water, separating it into potable water and useful salts, some with commercial value to the mining industry, such as sodium carbonate and gypsum.
"We need to move to thinking 'resources' and not 'toxins', and 'resource recovery' and not 'waste'," Lewis added.
So far so good.
Valley of Death
With so much going for eutectic freezing crystallisation, one can understand Lewis' frustration that the chasm between the technology and its commercialisation is so large.
And though there's been much support from the mining sector (around R13 million has been invested in developing the technology), there isn't anything commercially viable.
She calls this gap "the Valley of Death". It's familiar territory to legions of inventors and researchers.
"And the Valley of Death is wider than I thought," Lewis added. "We're good at solving research questions, but not at business strategy."
More resources are needed; a major partner '" such as government, for example '" to "de-risk" the process.
"We're at a tipping point," Lewis conceded.
Urgent action
More momentum could be gained from elevating the Crystallisation & Precipitation Unit (where the technology has been developed over eight years) to a DST-NRF centre of excellence. UCT's Department of Chemical Engineering already has one centre of excellence: c*change, or the Centre for Catalysis Research.
And though the unit has a laboratory-scale plant eutectic freezing crystallisation, a mobile demonstration plants and a full-scale plant will need to be built, funded privately or by the Technology Innovation Agency, Lewis suggests.
The urgency is set against current levels of demand for water, and as Lewis notes, the world is likely to run out of water before it runs out of oil.
Quoting Samuel Taylor Coleridge's The Rime of the Ancient Mariner: "Water, water, everywhere, Nor any drop to drink", Lewis said the idea was "primordial and horrible".
(Café Scientifique is organised by the Research Contracts and Intellectual Property Services in UCT's Research and Innovation Department and open to anyone interested in exploring new ideas in science and technology.)
Story by Helen Swingler.
---
This work is licensed under a Creative Commons Attribution-NoDerivatives 4.0 International License.
Please view the republishing articles page for more information.
---