Professor David Benatar, head of UCT's Department of Philosophy, considers what philosophy might contribute to how people can live a 'good' life.
Philosophy is a discipline with wide-ranging subject matter, and only some fields of philosophical inquiry - most obviously moral philosophy, but also related areas such as social and political philosophy - are directly concerned with questions about the good life. Philosophers hold a wide range of views, and thus philosophy does not offer a single answer.
Instead, philosophy, or at least analytic philosophy, offers a methodology for grappling with questions about the good life. This involves analysing - getting clear on what we mean by key terms and claims; drawing on empirical evidence; testing evaluative claims in various ways, including for consistency; and constructing logical arguments.
The evidence and arguments should - although unfortunately, they often do not - precede the conclusion. In other words, one should see where the evidence and arguments lead, rather than pick and choose evidence and arguments to fit some preconceived conclusion.
The sort of methodology described here is also used by those working on questions in other areas of philosophy, including metaphysics, epistemology, and the philosophy of language. At least some people believe that honing the relevant skills and gaining understanding can be one component of a good life.
It should be said that not all philosophical views about the good life are uplifting. Some philosophers think that while some lives can be better than others, no life can be really good.
That view is obviously contested, but it cannot be rejected merely because it is unpalatable. This is because one unfortunate fact about the world is that what is true is not always nice, and what is nice is not always true.
Even when it is not nice, however, the truth is at least sometimes worth having.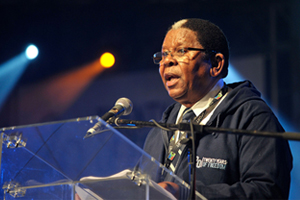 Chair of Council Archbishop Njongonkulu Ndungane
In an article published in the New South African Outlook in January 1999, former student of religious studies at UCT and current Chair of Council Archbishop Njongonkulu Ndungane writes of a government's responsibility to its citizens, and the responsibility that comes with freedom and the 'good life': "Government exists for the co-ordination of human life so that the general well-being of humanity may be promoted and a full human life made possible, through guaranteeing to everyone peace, security, freedom, justice and all that enables the 'good life'. Equally, the freedom to enjoy 'the good life' carries obligations." Quoting the InterAction Council's Universal Declaration of Human Responsibilities, he argues that freedom and responsibility are interdependent. "In any society, freedom can never be exercised without limits. The more freedom we enjoy, the greater the responsibility we bear - towards others as well as ourselves. The more talents we possess, the bigger the responsibility we have to develop them to their fullest capacity. We must move away from the freedom of indifference towards the freedom of involvement."
---
This work is licensed under a Creative Commons Attribution-NoDerivatives 4.0 International License.
Please view the republishing articles page for more information.
---