Psychosocial support should be a key element of mental health interventions for caregivers of children in HIV-endemic communities.
This recommendation by Dr Marisa Casale follows her doctoral study into the protective role of social support for caregiver's mental health. Casale, who has been a researcher at UKZN's health economics and HIV and AIDS research division (HEARD) for the last nine years, found that caregivers who receive more emotional and tangible support from their friends, family members and communities are less likely to experience anxiety and depression.
To establish the relationship between social support and caregiver health, Casale surveyed 2 477 adult caregivers of children aged 10 to 17 years in a rural and urban site in KwaZulu-Natal. She also interviewed 24 male and female caregivers – half of whom were HIV-positive – who had participated in the survey, to investigate how they perceived social support to be influencing their mental health.
Survey results show that caregivers living with HIV were about four times more likely to experience mental health problems than healthy caregivers, while others in the group with chronic illnesses, such as diabetes and hypertension, were twice as likely to experience anxiety and depression when compared to their healthier counterparts.
Casale believes that social support can protect caregivers from mental health problems in several ways: by "providing an opportunity to communicate problems and receive advice, boosting self-esteem, confidence and hope, and encouraging caregivers to tackle problems more directly".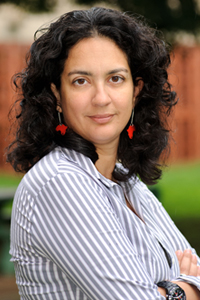 "It prevents rumination, in other words the repetitive and negative thoughts about the causes of their illness and their imminent death, which has been shown to lead to worse depression," she explains.
Before her doctoral studies at UCT, Casale obtained a degree in economics and banking science from the University of Siena in Italy. Her master's is in rural development studies from the University of Padua, Italy. She was a visiting scholar at the University of Natal (1998) and at Cambridge University (1999). Her previous professional experience includes working as a credit analyst for an Italian development bank, as well as lecturing and working in micro-finance. Explaining her move from finance to psychology via development studies, Casale spoke about her abiding interest in human development and development-related issues in southern Africa.
"My move was motivated by an increasing realisation of the importance of – and my growing interest in – what motivates and explains people's behaviour and decision-making. I believe that being able to link the economics and systems questions with the social science behavioural questions is particularly important in the current southern African context, where health service uptake and health equity remain key challenges."
Casale is currently a project manager and co-investigator at the Young Carers KwaZulu-Natal project, which identifies the needs of AIDS-affected families. The Young Carers project interviewed 6 000 children and 2 500 adult carers across six urban and rural sites. Casale's doctoral study was part of this larger project.
Her involvement with Young Carers presented her with an opportunity to co-produce a documentary film that – with the help of various multimedia platforms – highlighted lived experiences of caregiving and illness in rural KwaZulu-Natal.
Titled Raising Children in Rural South Africa, the film illustrates a unique collaboration between the caregivers, film-makers, a community-based NGO, and researchers like Casale. It is available on YouTube.
"Since the documentary has been uploaded, it has recorded over 6 500 hits, highlighting the effectiveness of film and multimedia products to disseminate information, research findings and important social messages," adds Casale.
Story by Abigail Calata. Main Image by Andrew Naysmith
---
This work is licensed under a Creative Commons Attribution-NoDerivatives 4.0 International License.
Please view the republishing articles page for more information.
---