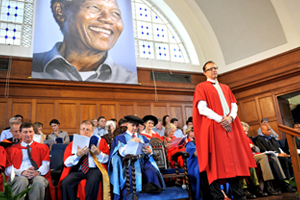 Inspirational lecturer: Dr Ian-Malcom Rijsdijk (film and media) receives his Distinguished Teacher Award from Vice-Chancellor Dr Max Price.
"Be the best member of society that you can be," guest of honour Hlumelo Biko said at the afternoon graduation ceremony in Jameson Hall on 14 December, on the eve of former President Nelson Mandela's funeral in Qunu on 15 December.
Biko, the son of the late Black Consciousness Movement founder Steve Biko and former UCT Vice-Chancellor Dr Mamphela Ramphele, has a BA (History and Politics) from UCT.
He told graduands that they were bound by a social contract to make a contribution to the country.
"Nelson Mandela urged people to do this," he said. "His footprints paved the way."
He also urged students to "light the internal candle" and align their life's purpose with their careers.
The ceremony, the third of four Faculty of Humanities graduations during the December cycle, was the second-largest, with 486 students graduating.
Distinguished Teacher Awards
At the ceremony Distinguished Teacher Awards were presented to Dr Hedley Twidle (English language and literature) and Dr Ian-Malcom Rijsdijk (film and media), both of whom were cheered by graduands.
Here are excerpts from the citations:
Dr Hedley Twidle
"A PhD candidate in the Department of English Language and Literature described herself as being 'blown away for a full 40 minutes in a lecture given by Hedley Twidle, as he shared with his class ideas about the relationship between language, choice and consciousness'.
"She goes on to say: 'He brought Nietzsche, Tolstoy, Jacob Zuma and a poem about an alien, knitting all these references together towards what felt to me like a revelation of sorts. Indeed I noticed around me many of those little 'um's' and 'ah's' and nods that invariably attend the rare moments when an audience is being authentically inspired.'
"Twidle works with students at all levels, from first-year undergraduates to PhDs, and is also involved in the department's MA in Creative Writing. Reflecting on what it means to teach English literature (or rather, literature in English) from a place like Cape Town, he suggests that this should be 'a fluid and evolving thing: a practice that weaves continually between practical and theoretical, critical and creative, seriousness and lightness, private and public, work and play'.
"He was instrumental in reimagining the first-year curriculum, and in enhancing the training programme for graduate tutors. He's described as part of the core of the department, and on the pulse of student culture, which says much about the impression he's made in his short time at UCT.
"His teaching portfolio speaks of his energy and commitment as a teacher: and his creative and inspiring curriculum development, as well as his ability to take an intellectual lead and inspire confidence in students, so allowing them to feel valued and safe, but also challenged and intellectually adventurous."
Dr Ian-Malcom Rijsdijk
"Rijsdijk is described as an inspirational teacher of film studies, film production and screen-writing. His energy, enthusiasm and deep generosity and passion for and encyclopaedic knowledge of the medium of cinema have captivated a generation of students. Rijsdijk has succeeded in giving them the tools necessary to engage critically with film.
"'While students pursue the 'right' answers in essays and exams,' Rijsdijk writes, 'I believe that what is more important than the answers are the questions asked... I tell my first-years in the first lecture that by the end of the course '" even if they don't continue to study film '" they will be the smartest people in the room, not because they are cool and can make in-jokes about cult movies, but because they will have the tools to critically engage with the inundation of visual communication which they encounter every day.'
"Rijsdijk inspires in small-group settings as well as in his large lecture classes. His screenwriting students are nurtured and encouraged to find their creative voices with his characteristic blend of firmness and kindness; his postgraduate teaching is likewise energised by what a colleague describes as 'his characteristic mix of inventiveness and intelligence'.
"Students are enchanted by his lectures, 'fast-paced, action-packed affairs', a former student writes, 'moving deftly between a startlingly broad range of disciplines, drawing with ease from an unimaginably vast mental library of pop culture and high theory. Rijsdijk can link Friedrich Nietzsche to Han Solo in a single lecture and still have time for questions. Nobody explains films like Ian Rijsdijk'."
Story by Helen Swingler. Images by Raymond Botha.
---
This work is licensed under a Creative Commons Attribution-NoDerivatives 4.0 International License.
Please view the republishing articles page for more information.
---