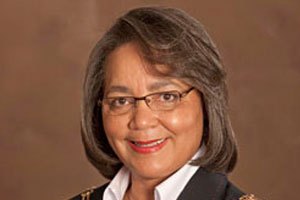 "His legacy is wrapped in the future of our nation". − Cape Town Executive Mayor Patricia de Lille.
The City of Cape Town mourned the loss of the father of the nation, Nelson Rolihlahla Mandela, Executive Mayor of Cape Town Patricia de Lille said in a statement. She entreated Capetonians to remember his legacy following his death on 5 December at the age of 95.
"Today is a time of national loss and mourning. All of us stand silent, united in our grief at the passing of the father of our nation, former President Nelson Mandela; Tata Madiba as we knew him in our hearts. On behalf of the people of Cape Town, I extend my deepest condolences to the Mandela family: his beloved wife Graça; his children; grandchildren; and great-grandchildren.
"We know of your pain. We share it. But let today, and all the days before us, be of remembering. Remembering the legacy and the mission Madiba laid out for us. Remembering the sacrifice he made to show us the way. Remembering that together, every day, we try and build that other country he showed us.
"Though anguish and grief surrounds us now, these too shall pass and be replaced by the strength and the joy of Madiba's legacy.
"I recall being in our first democratic parliament just after the 1994 elections. Those were days of turbulence and disagreement. But when Madiba spoke, we stopped and we listened. We did not know what the future held for us and the peace we had made seemed fragile. And yet, there was the grace and authority of Madiba's vision that, unwavering, was resolute of purpose and saw further than any of us could.
"It was the comfort of a visionary leader who gave up his own happiness so that all of us might be free.
"These are the stories which anyone who knew Madiba can tell you. His leadership has become a truth for all South Africans, whether they knew Madiba personally or not. I believe that each one of us knew Madiba because his sacrifice and vision made us what we are today: a country that knows freedom, democracy and human rights.
"Knowing him was knowing the best part of ourselves. Our city has a special relationship with Madiba. To our country's shame, it was the place where he was imprisoned by the apartheid regime for trying to set us free. He was not imprisoned for a crime; he was imprisoned because he knew what justice was and he would not stop fighting until it was achieved.
"Pollsmoor and Victor Verster prisons bore the indignity of his imprisonment. But for Capetonians, and the world, there is no greater symbol of his sacrifice and the brutality people are capable of than that place just off our coast which is removed from the city and the world: Robben Island.
"The shell of Robben Island's prison stands as a reminder that we must never forget where we came from and where we wish never to return.
"But Cape Town is also the place of Madiba's eventual victory. From the balcony of our City Hall, he pledged to continue the fight for our freedom to the city and to the world. His speech that day showed us all that the scene of our greatest adversity can also be the scene of our greatest triumph.
"The City of Cape Town was honoured to award the Freedom of the City to Nelson Mandela on 27 November, 1997.
"Some figures try and place themselves in history. Others achieve their place because of who they are or the position they held. In some instances though, there are figures that stand outside of history. They are so rare because they shape the course of the world to themselves, even if they did not wish to bear what seems to be the immense burden of destiny.
"Madiba is such a person. His legacy is wrapped in the future of our nation. Though he may not have wished it, he was more than just a man: he was and remains the ideal by which we all try and live.
"I call on all Capetonians to honour him so that we can continue to build this city according to his vision of unity in diversity; a commitment to non-racialism; the attainment of dignity; and respect for the sanctity of human rights.
"In so doing, we will continue to know him and the future that he dreamed for us all."
---
This work is licensed under a Creative Commons Attribution-NoDerivatives 4.0 International License.
Please view the republishing articles page for more information.
---