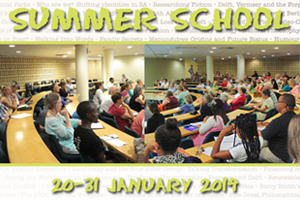 The Centre for Open Learning is is hosting the 64th annual Summer School programme at the University of Cape Town from Monday 20 to Friday 31 January 2014. This two week long programme remains the only programme of its kind in Africa. During this Summer School programme the University makes it possible for the general public to attend lectures and courses and to engage with world class lecturers, scholarship and research on a wide range of topics. This is an unique opportunity for the people of all ages to benefit from the University's knowledge resources and to have an educationally enriching experience that is open to all. There are no entrance requirements and no examinations are written. Course fees range from R19, 00 to R375, 00.
UCT Summer School offers around 60 courses each year and has been running annually since 1950 and attracts around 3 000 participants each year.
This year's programme includes lectures and courses in the Arts and Humanities; Science, Conservation and Medicine; History, Philosophy and Contemporary Studies as well as language, practical art and practical writing courses. There are also two free lectures - one on Massive Open Online Courses (MOOCs) and Seeing the World as an African Speaker - a lecture that examines what it is that makes African languages uniquely different and astonishingly original in the way they are put together.
Participants can look at science from every angle - from an historical, contemporary, practical or theoretical perspective. They can choose to look at the world through the lens of science in the company of five biologists (Seeing the world through the life sciences), or explore evolution and genetics to understand all forms of life (Evolutionary biology). They can also step back and get some perspective by allowing an astronomer to give you a sense of the threat from asteroid impacts (Threats to the Earth from asteroids and comets: should we worry?) or unravel the ancient mysteries of the intriguing Antikythera Mechanism (known as the 2 000 year old computer) or our own Mapungubwe site, famous for the golden rhino and other magnificent artefacts, or hear about the financial sustainability of national parks.
They can wander from the mundane to the sublime - walk with Jane Austen and Virginia Wolfe, have a laugh with Chaucer and Dickens and follow the world's greatest detectives. Discover the perils of researching erotica, delve into the mind of serial-killers and walk the aboriginal song lines or look at how real life translates into fiction, what humour tell us about our human nature and what detective novels can tell us about the social issues of the time. Join Colin Bundy, Jean Moorcroft-Wilson, Ron Irwin, Stephen M. Finn, Lauren Beukes, Anglea Makholwa and Finuala Dowling in these literary wanderings and exploration.
Participants can also learn about masterpieces of the mind or about fact versus fiction. Learn about Vermeer and the Golden Age of Dutch art, Kandinsky's progress towards abstraction and the Blue Rider Group's apocalyptic visions. Float in hues of blue like Chagall's dreamers or contemplate Judeochristian imagery in a pagan world, and ask what western art can tell us about medicine and how one can compose a creative life in South Africa. These '˜masterpieces' are sure to transport you through realms of mysticism and mayhem.
There are also many social justice issues to consider. Explore the history of the struggles over sanitation and reflect on the role of Social Justice Coalition in shaping the current response to this pressing social issue. Examine the important ways in which our Constitution invokes the past, most notably in relation to affirmative action, explore the current upheavals in South Africa's gender relations as young women, especially lesbians, present challenges to patriarchal norms, or look at the role of civil society in realising the right to education in South Arica. Hear about the issues and debates around transformation in South Africa's higher education sector and learn about the role of hip-hop in social justice activism in South Africa, and especially Cape Town, and about who we are as South Africans, and in particular post-apartheid struggles over race, gender, sexuality and language.
For details please visit the Summer School website or phone 021 650 2888. You can also join our active Summer School community online: Facebook: UCT Summer School Twitter: @UCTSummerSchool.
Join us, for what promises to be a stimulating and engaging two weeks!
---
This work is licensed under a Creative Commons Attribution-NoDerivatives 4.0 International License.
Please view the republishing articles page for more information.
---