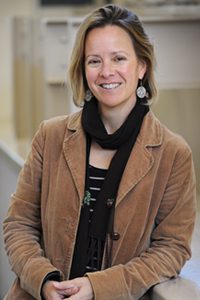 New head of CHED: Assoc Prof Suellen Shay
Two trial paint samples on the walls and books in boxes signal change at the Centre for Higher Education Development on upper campus.
New dean Associate Professor Suellen Shay is settling in. It's welcome, at this juncture in higher education, to have an incumbent who's been on the block at CHED some 24 years.
Continuity in the 150-strong, five-unit centre is important, says Shay. But it's also not just business as usual for a centre that provides strategic leadership in teaching and learning, and essential support to UCT's six academic faculties. No sooner had the ink dried on her five-year contract (Shay succeeded Professor Nan Yeld, who's on a well-earned sabbatical), than the Council for Higher Education presented a proposal to extend the undergraduate three-year degree to four years.
The proposal addresses "unacceptably high" failure and dropout rates and presents a case for curriculum reform that has huge implications for tertiary education.
"It's an interesting moment for the country," says Shay. She looks keen, unfazed. "We must get into the debate and engage with the policy. "Higher education has failed the majority of South African youth. With four million unemployed youth who are uneducated and unemployable, there's potential for huge political and economic instability. We must get into the debate and engage with the policy."
Universities have to think long and hard - and flexibly - about what they provide and how they provide it.
"The policy is an opportunity to re-think our assumptions about the widening gap between school and university. It's also about ways to add 'breadth' to the curriculum by promoting things like multilingualism and global citizenship."
A cross-faculty unit, CHED has built respected expertise in the technological aspects of online and open access and innovative pedagogy. "We have real expertise in this area, and the Vice-Chancellor is keen for UCT to take up the opportunities that, for example, MOOCs (Massive Open Online Courses) might provide.
Shay concedes that technology can be the tail wagging the dog. CHED's role is to ensure that the technology serves the teaching and learning, not the other way around.
"UCT's strength is in our location and our residential space. But we want to use technology optimally."
The recent UCT Teaching and Learning Conference at UCT tackled the topic of online education with some vigour. But beyond technology is the developmental aspect: academic staff development, academic writing support, career development and graduate recruitment services. Here too, there's change, with Professor Ian Scott (Director of the Academic Development Programme) retiring and the establishment of the new Centre for Innovations in Learning and Teaching. The recruitment of directors for both of these units has begun.
On an increasingly international campus, the gentle twang in Shay's accent is not unusual; it's typical, some would say, of the 'mish kid'. Raised in the Congo, Shay's parents were American missionaries in Central Africa.
At 18 she journeyed to the US, where she completed her MA at the University of Illinois at Champaign-Urbana. But she always wanted to return to Francophone Africa as a language teacher.
As it turned out she came to South Africa with her husband in 1988, "just for a year", but "got stuck". Happily.
That Shay spent her childhood and early adolescence in Africa is an important part of her understanding of her 'citizenship' in the world - and essentially linked to her sense of social justice and what it means to be a human being.
Being adaptable is secondnature to this mother of three daughters, two at UCT and one in grade 8.
As the parent of university-going children, Shay has an up-close view of what it means to be a student at a South African university, especially at such an eventful time in higher education.
Story by Helen Swingler.
---
This work is licensed under a Creative Commons Attribution-NoDerivatives 4.0 International License.
Please view the republishing articles page for more information.
---