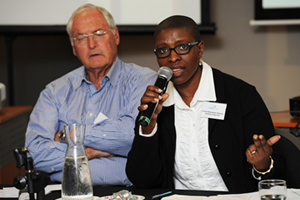 Sharing and building: UCT Ombud Zetu Makamandela-Mguqulwa with Prof Bernard Lategan, Ombud at the University of Stellenbosch at the Ombudsing workshop.
With little experience among South Africa universities to draw from, the creation of the Ombuds Office three years ago had presented a steep learning curve for UCT, said Ombud Zetu Makamandela-Mguqulwa.
"It's been a source of immense learning to us as we travelled this three-year journey," she said at the recent workshop, The University Ombud: Potential, pitfalls and limitations, hosted by UCT's Ombuds Office at the Breakwater Campus.
With few Ombuds offices among South African tertiary education institutions, the workshop provided an invaluable forum for discussions on the value of Ombuds in a sector in urgent need of transformed dispute and conflict resolution mechanisms and structures.
Makamandela-Mguqulwa said it was important for institutions like UCT to share their experiences, particularly the potential pitfalls and limitations of creating an Ombuds office.
Because of its disparate nature and its complex internal structures and relationships, academia is often a breeding ground for grievance and conflict. As such, Ombud offices were important tools in institutional conflict management and dispute resolution, said Mahlubi Mabizela, chief director of the Department of Higher Education and Training's (DoHET) University Education Policy & Development Support.
Delivering the opening address at the workshop, Mabizela said that DoHET had received far fewer complaints from students and staff of institutions that had Ombuds offices.
Mabizela also endorsed the Ministerial Committee on Racism and Discrimination's (the Soudien Commission) recommendation that all universities establish Ombuds offices, linking these to transformation imperatives in higher education.
The creation of the Ombuds Office at UCT had been driven by the university's broader transformation strategy. However, Vice-Chancellor Dr Max Price said the process had not been simple.
To maintain confidentiality and '˜isolate' the office from the university's bureaucratic processes, UCT's Ombud reported to the Chair of Council. While Price expressed the value and significance of having an Ombuds Office, he also mentioned the structural placement of the office as an occasional challenge.
Nonetheless, UCT valued its Ombuds Office, which was well used by staff and students, Price added.
However, statistical use of the office may provide a different interpretation to different people.
"We've not yet developed adequate measures to measure success, and evidence is important in a university setting," said Price.
He said UCT would work towards developing these indicators in the next two years.
A highlight of the workshop was the conference call on Ombudsing skills presented by Doris Campos-Infantino of the International Ombudsman Association. Makamandela-Mguqulwa serves with Campos-Infantino as a member of the international committee.
Story by Helen Swingler. Image by Michael Hammond.
---
This work is licensed under a Creative Commons Attribution-NoDerivatives 4.0 International License.
Please view the republishing articles page for more information.
---