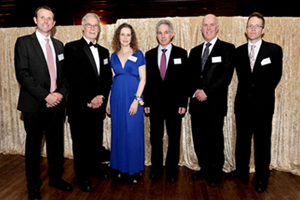 Good Fellows: (from left) Dr Andrew Hamilton, Professor Danie Visser, Deputy Vice-Chancellor of UCT, Ms Amanda Tiffin, Dr Max Price, Vice-Chancellor of UCT, Professor Edward Sturrock and Dr Digby Warner took time out from dinner proceedings to capture the moment for posterity.
It was an occasion, said UCT's Vice-Chancellor Dr Max Price, which "gives us an opportunity to reflect on the incredible achievements of our colleagues".
Price was speaking at the College of Fellows Annual Dinner on 13 November, at which glasses are raised to veteran '" and some prodigal '" scholars, who have contributed sufficiently to their fields to be inducted into the prestigious College of Fellows.
"Every year," said Price, "UCT research has increased our understanding in a broad spectrum of topics that affect our daily lives, from drug discovery to urban planning; from tuberculosis, HIV/Aids and mental health; from the health of the Kei River and the life cycle of butterflies to how the universe looked just after the Big Bang; from the way hormones shape our social-emotional behaviour to the influence of mining and violence in our communities to how urban youth talk amongst themselves."
Hats were also doffed at the excellent research from outside the university, said Price.
"Your achievements as researchers, and the work you now have in progress, impressed the Parliamentary Portfolio Committee in Higher Education when it visited UCT in August '" so much so that in its report to government, the committee endorsed our argument for more government funding for South African-based research," said Price. "We do not know how the government will respond, but it is heartening to see that your hard work has been acknowledged by the committee."
A toast was proposed to two new Fellows: Professor Carolyn Williamson of the Department of Clinical Laboratory Sciences; and Professor Edward Sturrock of the Department of Clinical Laboratory Sciences.
Williamson is at the forefront of human immunodeficiency virus (HIV) research in South Africa, and world-renowned in the field of HIV diversity, pathogenesis and vaccine development. She is currently Head of the Division of Medical Virology, located in the Department of Clinical Laboratory Sciences at the UCT's Medical School. Williamson is a founder member of the IIDMM and a member of the Academy of Sciences of South Africa and a Fellow of the Royal Society of South Africa.
Sturrock, a full professor in the Division of Medical Biochemistry (Department of Clinical Laboratory Sciences) based in the Institute of Infectious Disease and Molecular Medicine. He is an accomplished scientist and academic, who works in the areas of protein structure and function, and drug design and development.
There were also four recipients of the College of Fellows; Young Researcher Awards:
Dr Andrew Hamilton, a lecturer of physics and a researcher in high energy particle physics working in the ATLAS Collaboration at the European Centre for Nuclear Research;
Associate Professor Landon Myer of the Infectious Diseases Epidemiology Unit, whose current and future research plans focus on two major new studies based at the Gugulethu Community Health Centre: the first on antiretroviral therapy in pregnancy, focusing on postpartum adherence and retention of HIV-infected women and their HIV-exposed children, and the second on the provision of family planning for HIV-infected women to prevent unintended pregnancies;
Ms Amanda Tiffin, of the College of Music, who joined the College in 2009 as the Head of Jazz Singing. Tiffin, who holds a Master's degree in jazz composition and vocal performance, is a popular vocalist-pianist and a respected musical director/arranger, orchestrator and composer;
Dr Digby Warner of the Institute for Infectious Disease and Molecular Medicine, an expert in mycobacterial physiology, in n particular the mechanisms and regulation of DNA repair and replication in Mycobacterium tuberculosis and their role in the emergence of drug resistance, the physiological consequences of drug resistance, and the role of vitamin B12 and related co-factors in mycobacterial pathogenesis.
Text: Yusuf Omar. Image: Raymond Botha.
---
This work is licensed under a Creative Commons Attribution-NoDerivatives 4.0 International License.
Please view the republishing articles page for more information.
---