A supportive environment makes all the difference to quality teaching, writes Professor Jenni Case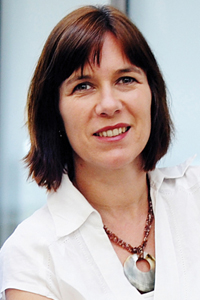 Jenni Case is a professor, with a particular focus on academic development, in the Department of Chemical Engineering. She was recently announced as a winner of the CHE-HELTASA award for Excellence in Teaching and Learning, and has just launched a book entitled Researching student learning in higher education: A social realist approach.
Receiving a national award for teaching excellence is a great honour, but while compiling the portfolio to support this nomination a few months ago, I realised that the real reward was already in my hands. My Head of Department had invited graduates of our programme to make submissions in support of this nomination, and thus I found myself with a pile of statements that made me feel very good. My husband jokingly said, "You can't take these things too seriously, people always write nice things", but what I particularly appreciated was that students seemed to have actually noticed the things I was trying to do in class. Here is an extract from one of them to illustrate this point:
"Prof Case has an incredible ability to break down complex concepts into simpler, accessible ones. Secondly, despite the very quick turnaround in marking, she manages to provide detailed feedback. Thirdly, she is highly interactive in tutorial sessions and will go an extra mile to help a student understand. Lastly, she has an incredible memory; she is able to recall a whole class of more than 100 first year students by first name just a month into the course."I am sharing this with you because on one level I think it does show that good teaching is not always rocket science. I am sure that most UCT lecturers could tick off most items on this list, except maybe for the crazy endeavour of trying to remember student names. This is the reward of teaching: when students express the ways in which one's teaching has 'worked' for them. And, having recently experienced the loss of my father – also an academic – I was reminded again that we have the rare privilege of being able to positively influence many lives. Colleagues and students queued up at the funeral to share memories with me.
As much as these kinds of awards might suggest a 'lone ranger' model of the excellent teacher, this is actually an illusion. University teaching has a departmental and an institutional context, and a teacher in a non-supportive environment will have an uphill battle. I am fortunate to have lived my academic life in a department with strong leadership and academics who are committed to undergraduate teaching. This has been an amazing space to grow; I started when I was 27 and I am now 45. I am a scientist from my undergraduate education and an education scholar from my postgraduate work, and it is the boldness of this place that allowed me to join chemical engineering 'through the back door' and to teach in the undergraduate programme. I have been mentored by brilliant senior academics and can now, in turn, offer support to the next generation of academics.
However, the institutional context is also significant. There is a lot that I value about UCT and how it nurtures teaching endeavours. The excellent Centre for Education Technology and the support of ICTS come to mind. I have enjoyed exploring the possibilities of using technology in my teaching and am excited that we have a progressive project underway to improve our teaching venues, as I think this is long overdue. Also, with the provision of cross-campus Wi-Fi and many 'social learning spaces', the University is making progress. But I also believe there is a lot of institutional work to be done. I value our 'shape and size' commitment to making sure our undergraduates finish their degrees. We have some way to go in realising this dream, though.
To make quality teaching more of a norm in our institution, I believe there are two imperatives. The first lies in the staff recruitment process. In Chemical Engineering, every person applying for a lecturing post actually has to give a mock second-year lecture to the teaching staff, who take some delight in being second years for the day and asking for things to be explained carefully. We should be doing this in every selection process in the university. This 'mock lecture' is far more telling of someone's baseline capacity and potential in the undergraduate teaching space than any research seminar. Teaching is, of course, a process of growth – but you do need to start with some teaching skill and a demonstrable commitment to student learning. The second crucial institutional moment is the ad hominem process. In our faculty, we have a rigorous process of assessing teaching performance and we have sub-minima in teaching for promotion to senior levels. In short, you will not be promoted to associate professor in our faculty if you are not able to show evidence of a fair contribution to effective teaching in the undergraduate core programme.
This being a personal piece, I want to do one final stir of the pot – especially for young graduates thinking about what they want to do with their lives. While I do punt the academic career, I want to suggest a potentially radical move as a possible first job. Being keen on teaching I started my career with three years in the school classroom, which I still would not change for anything. I want to encourage smart young graduates to consider a short stint in a school. The benefit of what you learn in that space will live with you through your life. Don't think that you will be written off forever from other jobs – be bold and do something in your 20s that you might not do later on. But I also want to encourage those who are keen on teaching to think about an academic career. The stereotype of the university academic is someone who enters the academy wanting to do research and who has to do teaching as an afterthought. I used to think I was a bit odd, being someone who came here mainly because I wanted to teach (and then found that I also really enjoyed research). But I think this constituency might be growing. I don't think there are many jobs out there that offer you so much opportunity for creativity and growth. I cannot emphasize enough what a great job this is. It is a real privilege to work with some of the most talented young school leavers that the country and the continent have to offer and there is nothing I would rather be doing with my life.
---
This work is licensed under a Creative Commons Attribution-NoDerivatives 4.0 International License.
Please view the republishing articles page for more information.
---