Dr Maanda Mulaudzi, a UCT historian and member of the university's Naming of Building's Committee, shared his views with Monday Monthly about the politics, opportunities and potential pitfalls of names in heritage.
How does renaming a building or place fit into our idea of heritage in a post-apartheid South Africa?
In many ways, the names we have for buildings, places and streets reflect a particular aspect of our complex history. So for us, as UCT and the country in general, the issue ought not be that we just replace the names of what are now considered unfashionable or unheroic people, but [that renaming forms] part of an ongoing process to transform the institutional culture of the university and society.
This renaming is already under way at UCT, and indications are that in the wake of recent events on campus, it has gained momentum. How we do that is part of the current and ongoing debate. For some it might simply mean the replacing of one name with another. For others it forms part of a critical engagement with that history, and recontextualising it and saying, "Well, what does this mean?"
I'm persuaded by the model adopted on Constitution Hill in Johannesburg; instead of completely erasing the Old Fort Prison and its brutal and oppressive history, it has been integrated into the Constitutional Court. And what this signals is a continual dialogue between the present and the past.
Dr Neville Alexander would have been very uncomfortable with having a building named after him because it would be contrary to his radical politics. So the politics of renaming aren't simply a repetition or replacement of what we're trying to change.
It's important that we address symbols of the past, but with a different politics of commemoration. Leavings things as they are is not an option either.
How does the Naming of Buildings Committee come to the decision of naming a building after a particular person?
In renaming buildings and spaces, it is tempting to take the easy option. We don't want to simply do that: just name a building after some hero, but if you're not really thinking about the more important issues, [like the] visions that these people represent, I'm not sure that that process will necessarily advance transformation.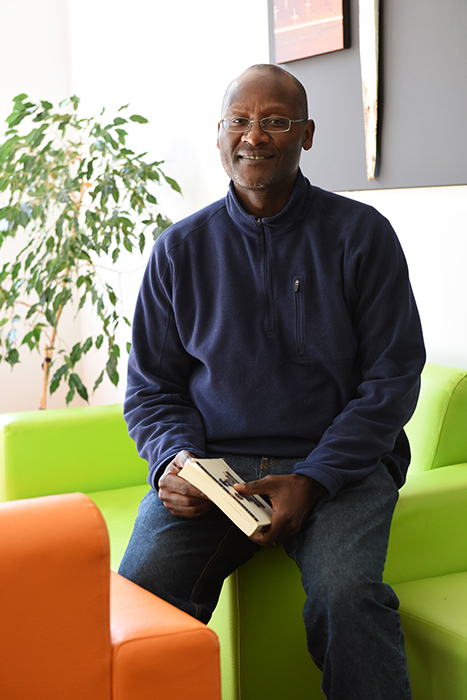 Dr Maanda Mulaudzi is a lecturer in UCT's Department of Historical Studies.
Is there a risk of deifying a person in naming a building after them, but not critically engaging with their ideas?
Exactly. That's the other thing. The conventional politics of memorialisation is canonisation. Done in this way, though, you effectively tame their ideas while elevating them in some fashion.
Can we live up to their ideas? Can we critically engage with their ideas and see how they fit our changing situations? To what extent are we realising their vision? That to me is how you truly live up to somebody's name.
Do we simply want competing nationalisms, where you replace the previous nationalism with a new version, or do we want something more radical? Renaming ought not to be an event, but a process by which we commit to critically engage with their ideas rather than foreclose that process.
I'm not sure building monuments is the best way to do that, either. That becomes a quick way to domesticate the radical politics with which they are associated, but without fully embracing them at the same time. Imagine a Fanon monument, or look at the Mandela Square monument in Sandton; that's an appropriation rather than an engagement with his ideas.
On competing nationalisms, some argue that renaming is merely throwing out someone's history and replacing it with another group's.
I suppose it's possible to think that if the politics of renaming are not rethought.
For me, it's a process that begins to rethink Cecil John Rhodes, for example, and recontextualise his presence among us now. His history is not just of one group, nor even of just one country. His statue was a celebration of imperialism, of his 'achievements' and of the continued dominance of that legacy. That's the narrow history of some people.
It's not so much that you are replacing or re-writing other people's history. It's telling them that the history that you think is yours is much more complicated than that.
But it will become a case of competing nationalisms if all you do is replace that statue with another statue, without thinking whether that's the best way to commemorate the past. If you put Mandela where Rhodes was, you're simply putting Mandela in this context that remains unchanged.
To what extent can history and heritage be used as euphemisms for privilege that we might want to maintain?
Again, it comes down to saying that something can't be changed because it's my tradition. A black person calling a white man baas: that used to be somebody's tradition. Who wants to maintain that?
It is important for us to know the history of privilege, and white privilege particularly, which continues to the present and which some people are not even aware of.
Think about the old South African flag. It's important to know what it looked like and what it represented, but to wave it and celebrate everything it stood for – that's not going to take us anywhere except to the unexamined past.
It's interesting that we've quickly fastened onto the word 'heritage' rather than history. The part I'm uncomfortable with is that heritage is supposedly meant to be something we agree on. I'm not sure it is a common heritage because we agree on heritage. It is heritage because it is part of our common history, but how history shaped us might be very different, and we can and should continue to debate that heritage and history.
But the way I hear heritage spoken of, it's as if it's something that's beyond debate.
And what do we have as heritage? Braai? Again, I think we can do better than that. And some people are already doing so in various and important ways.
"It's important that we address symbols of the past, but with a different politics of commemoration. Leavings things as they are is not an option either."
Story by Yusuf Omar. Photo by Michael Hammond.

Read more stories from the
September 2015 edition.
---
This work is licensed under a Creative Commons Attribution-NoDerivatives 4.0 International License.
Please view the republishing articles page for more information.
---