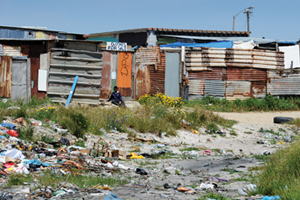 The divide: Vrygrond, near Muizenburg, is one of Cape Town's most impoverished townships and is under-resourced in a myriad ways.
Walking the lush campuses of UCT, it's hard to believe that just around the corner is a wasteland of inequality: Cape Town's townships, where the divide - digital and otherwise - is all too apparent.Thanks to a R45 000 grant from the university, scholars and students of the Department of Information systems are supporting a public computer laboratory in the impoverished township of Vrygrond, near Muizenberg, which is bringing to residents' fingertips tools and information that were previously out of reach.
Officially launched earlier this year, the Vrygrond Community Lab got off the ground after collaboration between the UCT community and their counterparts from Pforzheim University in Germany.
Vrygrond's state-of-the-art computer lab is run and maintained by community members. The lab gives locals access to training programmes, with subjects including - but not limited to - preparing and presenting presentations, application writing, job searching, general computer training, and other extracurricular activities.
This bridge across the digital divide allows community members access to a two-week basic computer literacy programme, while UCT students support entrepreneurs from the area by building websites for businesses. Learners in grades 10 to 12 are offered extra-school classes, with the aim of improving their performance at school.
"The vision of this joint project is to sustainably improve living and working conditions by providing opportunities for computer-assisted employment possibilities," reads the department's website.
"The immediate goal of the Vrygrond project is to equip residents with computer skills that will assist them in their daily activities, whether they be finding employment, running a business or studying."
The project has also strengthened local NGOs by offering them training and lending a hand in developing their websites.
IS gurus Professor Kevin Johnston and Dr Maureen Tanner, who are the brains (and legs) behind the lab, say: "Social initiatives that will uplift and improve the quality of life in impoverished South African communities are key to UCT's social development strategy and philosophy of providing holistic educational services to all communities, and redressing the imbalances of the past."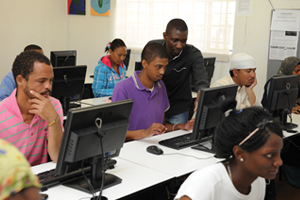 Techno time: The new lab is run and maintained by community members.
Professor Lisa Seymour, head of department, adds: "This commitment by UCT signals the start of a challenge to our alumni to help 'give back' by financially supporting this unique project."
Mark Robinson, an Honours student who volunteered to contribute to the launch of the lab, said: "I have been privileged to develop a skill set during my Bachelor of Commerce degree' an opportunity that most South Africans have not had. We are now here to give something back. We can't change the world's problems overnight' but we can certainly try."
Another student observed: "For me personally, this was one of the best experiences I've had this year. The Honours Outreach Community Involvement Project taught us that there are communities out there that are not as privileged as our own. These communities could do with an extra hand from us in trying to improve their socio-economic status."
Professor Joachim Schuler of Pforzheim University said at the launch: "I am very grateful to the volunteers. Their first aim is to help' but this also helps our students to become leaders."
Community members were pleased at the advantage the skills they learnt on the training programmes gave them in the job market, while some young residents reported that the computer training programmes had sparked their desire to return to school and continue their formal education.
Story by Yusuf Omar. Images by Michael Hammond.
---
This work is licensed under a Creative Commons Attribution-NoDerivatives 4.0 International License.
Please view the republishing articles page for more information.
---