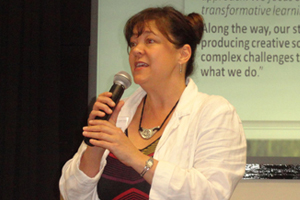 Collaborate to invigorate: Dr Catherine Burns of the Wits Institute for Social and Economic Research.
A poor reading culture in South Africa 'hamstrings' graduates who lack a broad grounding in the arts, and results in a weak platform for inter-disciplinary research, Dr Catherine Burns said at UCT's Research Indaba earlier this month.
Burns is based at the Wits Institute for Social and Economic Research (WISER) and was keynote speaker at the indaba, which had inter-disciplinary research as its theme.
But studying and working in South Africa did offer some advantages, Burns said. Its turbulent past had made citizens politically highly literate and able to form opinions on the big questions of the day.
Another advantage is that the country lies on a 'tri-continental frontier', where East and West meet, and where Africa, Europe/North America and Asia converge in ways that invite new approaches and methodologies.
Burns urged participants to think creatively, see the connections between apparently disconnected issues, and to frame new modes of inquiry.
"For inter-disciplinary research to flourish it requires courage, hope, persistence and irritability," Burns said.
"Scholars need to be impatient with received wisdom, because this produces good questions and the research curiosity that drives excellence."
South African universities had been characterised by the creation of artificial barriers between disciplines, which impeded research and enquiry.
Referring to the University of the Witwatersrand in the 1940s, Burns noted how a struggle over who knowledgeably could speak "about Africa" had resulted in a chasm forming between history and anthropology, so that it was not possible to study both subjects together. It was, however, possible (though unusual) to study history and biology together.
The Research Office's third indaba, the forum also provided an opportunity for researchers to engage with the report of the task team on inter-disciplinary and trans-disciplinary research at the institution.
The task team was set up by Deputy Vice-Chancellor Professor Danie Visser, chaired by Professor Mark New (African Climate development Initiative) and supported by Dr Robert Morrell (Programme for the Enhancement of Research Capacity).
Speaking on inter-disciplinary research, New said that UCT had three options: to do nothing; to remove obstacles that currently slow or make research difficult; or to boldly create space for inter-disciplinary research and to commit resources and leadership to this project.
Examples of inter-disciplinary research at UCT were presented by Professors John Field (Marine Research Institute), J P Franzidis (Minerals to Metals), as well as Tania Douglas and Associate Professor Tom Franz (biomedical engineering). These demonstrated how an inter-disciplinary approach can produce innovative research that could not have happened within a traditional disciplinary environment.
---
This work is licensed under a Creative Commons Attribution-NoDerivatives 4.0 International License.
Please view the republishing articles page for more information.
---