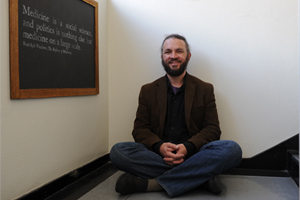 Capacity-building: Dr Christopher Colvin, co-principal investigator on the new UCT/Brown University partnership on HIV and social science.
The process of healing has been all but ignored, says Tokologo Phetla
UCT has teamed up with US Ivy League school Brown University to develop a new cadre of HIV social scientists who can provide sustainable, interdisciplinary solutions to HIV/AIDS in South Africa, where one in six adults has HIV.
Some 6.2 million South Africans live with the disease – the world's largest HIV-positive population. The project, named 'Partnership for the Next Generation of HIV Social Science in South Africa', will see the social sciences playing a greater role in the response to HIV. It will be run in UCT and Brown's public health schools, and will be funded by the National Institutes of Health to the tune of US$1.9 million (over R19 million) over five years.
The co-principal investigator from the UCT side is senior researcher Dr Christopher Colvin, an anthropologist working in the Centre for Infectious Disease Epidemiology and Research (CIDER) in the School of Public Health and Family Medicine.
His work integrates social science perspectives into public health research on HIV/AIDS, gender, community health workers and health activism.
"The social science and public health responses to HIV have both been tremendously important, and many at UCT are at the forefront of this research," said Colvin.
"However, these responses have often developed in parallel, rather than in close collaboration. This grant aims to integrate the social sciences into the core of our public health teaching and research on HIV in the School."
Brown's participation will be led by South-African-born Professor Mark Lurie, who has studied sub-Saharan Africa's HIV epidemic for more than a decade.
"The new grant is a wonderful opportunity for Brown to contribute to training the next generation of South African social scientists, whose work is aimed at better understanding and preventing HIV infection in the country with the most severe epidemic," said Lurie. A key platform for delivering this initiative is UCT's new Division of Social and Behavioural Sciences in the School of Public Health and Family Medicine.
This new teaching division, headed by Colvin, will be supported by expertise and collaboration at UCT and Brown. Its development will also be informed by lessons learned from the recent institutional growth at Brown, in the form of its own new Division of Social and Behavioural Sciences in its School of Public Health.
The partnership will contribute to curricular development, training and professional development within the Division and the School, through collaborations with HIV-focused social and behavioural scientists at Brown. Outside of the classroom, it will also create opportunities for collaborative, interdisciplinary and innovative research in HIV social science, particularly at postgraduate and postdoctoral levels.
The centrepiece of the grant is the SASH Fellows Programme for interdisciplinary HIV social science research, which will run in two cycles, one beginning in 2014 and the other in 2016.
Fellows will work on research projects in one of three targeted areas: gender in HIV/AIDS risk and response; anti-retroviral therapy adherence and expansion; and HIV prevention for women, youth and families.
Their work will be closely monitored and supported by UCT and Brown mentors throughout the fellowship period and beyond.
Story by Helen Swingler.
---
This work is licensed under a Creative Commons Attribution-NoDerivatives 4.0 International License.
Please view the republishing articles page for more information.
---