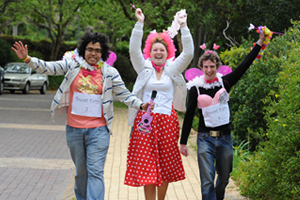 Breast Cancer Awareness Walk: The UCT community participated enthusiastically in a recent fun walk organised by the Obz Square residence to raise funds and awareness about breast cancer. The residence was able to raise R5 955.40, which was donated to two local cancer care homes.
The buzz word in breast cancer research these days is genetic profiling - how an understanding of patients' genetic predisposition could lead to more effective and personalised treatment, and the identification of genetic mutations to inform preventative measures.
In line with these developments, Horacia Naidoo, a doctoral student in UCT's Division of Human Genetics, is investigating breast cancer patients' genetic predisposition to cardiotoxicity due to chemotherapy.
"It's a harsh injustice to survive breast cancer only to succumb to heart failure," she believes.
An initial study to identify at-risk patients, and focusing on dose and pre-existing conditions such as hypertension or cardiac disease, found no accurate correlation between patients deemed high-risk and those who actually developed signs of cardiotoxicty. "This led us to investigate a genetic response to medications, since some 'low-risk' patients on low-dose anthracycline-based chemotherapy showed signs of decreased cardiac function after treatment," she explains.
An ongoing interest in the personalisation of patient treatment, as well as a family history of breast cancer, is what drives Naidoo to learn more about the disease. "I have witnessed bright, beautiful women become mere shadows of themselves, (which makes) this battle in fighting breast cancer a very personal one."
Naidoo has also travelled to Novartis's Oncology Laboratory in Switzerland to work on a drug discovery project for Triple Negative Breast Cancer (TNBC). "TNBC currently has no targeted therapy, and is associated with women of African descent. It is highly aggressive and occurs at a young age, but due to it being a problem that is largely African, it has not been recognised by pharmaceutical companies in countries with large Caucasian or Asian populations."
Angelina Jolie's double mastectomy earlier this year after testing positive for a gene mutation that put her at 50% risk of contracting breast cancer highlighted the importance of genetic profiling in preventing the disease. According to Naidoo, "The latest in breast cancer research is focused on the profiling of breast cancer tumours where aberrations at the DNA, RNA, protein and epigenetic levels are interrogated."
There are two breast clinics in Cape Town: one at Groote Schuur, and another at Tygerberg Hospital. The one at Groote Schuur runs on a Friday, on the G Floor. It used to be a walk-in clinic, but due to increased demand for services, anyone (including those on medical aid) who wants to make use of their services must have a referral letter and make an appointment.
Even with an appointment, patients must ensure they arrive at 7am at the E floor with their green ID book, their referral letter and a salary slip (no older than three months). The Groote Schuur breast clinic conducts mammograms, X-rays and biopsies. Depending on how busy the clinic is, biopsy results could be available on the same day - if not, then a week later, at the next breast clinic.
If the biopsy is positive the patient is referred to the combined breast clinic, which usually runs on a Wednesday. Specialists available at this clinic include oncologists, radiologists and surgeons, as well as plastic surgeons.
To make an appointment at the breast clinic, call 021 404 5260.
Story by Abigail Calata.
---
This work is licensed under a Creative Commons Attribution-NoDerivatives 4.0 International License.
Please view the republishing articles page for more information.
---