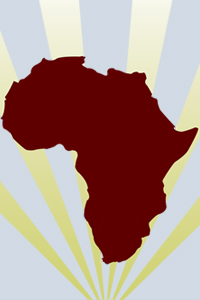 The process of healing has been all but ignored, says Tokologo Phetla
Runners who compete in two different races, under different circumstances, cannot be compared, or measured against the same criteria. Each one needs to be evaluated in a relative way, against appropriate and unique criteria. I believe that as Africans of today, we find ourselves in a world that is continuously 'furnished and decorated' but in which we do not make our unique contribution because we have lost our sense of African-ness. This, in my opinion, will eventually lead to the dissolution of our heritage and sense of humanity. What will emerge in its place is a heritage and humanity defined by those who are actively involved in the 'furnishing' of this world.
This manifests in terms like 'third-world country' and 'first-world country'. Whether the pressure to do it is implicit or explicit, there is an expectation for African nations to look in the direction of northern powers and become more like them because that is the supposed metric of life in the world we live in today. In response to this, owing to a weak sense of self, Africa has agreed silently to these standards which it did not define for itself. But it is crucial to remember that what the rest of the world is doing, and how others are living, isn't the absolute way to do things. We still must learn to take that and transform it to fit into our culture and our mould, instead of trying to transform our culture to fit into someone else's mould of 'how it should be'.
Poverty, and other 'negatives' that are associated with our continent, are not specific to African people or the continent we inhabit. They are specific to anyone and any continent with an oppressive history.
So how do we move forward? In our quest to embrace freedom from colonialism in Africa, I am afraid that we have neglected the most important aspect of any transformation; and that is the process of healing. In the South African context in particular, immediately following the apartheid era, different segments of society which were previously divided were expected to 'forget'.
It is my belief that avoiding dialogue based on racial lines was something that was necessary in 1994. But now, confrontation, and honest debate and engagement which tackle the real issues, are a very necessary part of the process. We need to have those conversations. Regardless of how much we try to avoid speaking about the past, and we try to 'forget' the racial fault lines, manifestations and expressions of a mind conditioned by our history still express themselves in our society.
It is clear that in the quest for our true humanity as Africans (regardless of skin colour), we need to redefine what it means to be African, and we need to give the world a more African face – as reflected by ourselves, and not the mirror of other cultures and other nations.
---
This work is licensed under a Creative Commons Attribution-NoDerivatives 4.0 International License.
Please view the republishing articles page for more information.
---