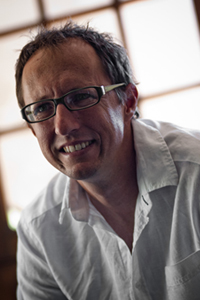 Rijsdijk is a recent winner of a Distinguished Teacher Award at UCT.
The value of art education is about developing a sense of the world, says Ian Rijsdijk
Given the social and economic realities of contemporary South African society, what is the value of art education, particularly in relation to film, a notoriously wasteful and expensive form of art? What 'value' do students gain from studying editing and cinematography, still-frame compositions, and the genre analysis of horror films, musicals or soap operas? What contribution to the well-being of others will our students make when they leave the university?
Recently, filmmaker Steven Soderbergh gave what is now being called the 'State of Cinema' address at the 56th San Francisco International Film Festival. In trying to come to terms with his own sense of weariness and confusion about the world of film and filmmaking, Soderbergh quotes Douglas Rushkoff's description of 'present shock': "There's no story, no narrative to explain why things are the way things are. Previously distinct causes and effects collapse into one another. There's no time between doing something and seeing the result. Instead the results begin accumulating and influencing us before we've even completed an action. And there's so much information coming in at once from so many different sources that there's simply no way to trace the plot over time."
Soderbergh's concerns over what film means to audiences and filmmakers have been in my mind for some time now. For him, art is "inevitable", so fundamental to human society that worrying on its behalf seems hubristic. When I see the change in campus culture over the past decade, I think commodity consumption is also inevitable, or at least appears that way to many students. But I like to think that the students who pass through our courses in film and media develop as creative thinkers, and critical consumers, at the very least.
If I slow down the panic of pace and proliferation to which Soderbergh and Rushkoff allude - place the administrative meetings, consultations and online learning forums to one side - I can identify two ideas that, I believe, should inform teaching, both academic and creative: enrichment and critical engagement. While students naturally pursue better grades, I try as hard as possible to make sure that what is available to them in my classes and courses is about more than grades. And while students pursue the 'right' answers in essays and exams, I believe that what is more important than the answers are the questions asked and students' critical engagement with those questions. I tell my first-years in their first lecture that by the end of the course - even if they don't continue to study film - they will be the smartest people in the room, not because they're cool and can make in-jokes about cult movies, but because they will have the tools to engage critically with the inundation of visual communication which they encounter every day.
Film and media studies is a relevantly young discipline at the university. The department itself is only ten years old, though courses were taught previously in several social sciences and arts departments. While some students see the courses as the foundation for a volatile career in film making, many of our students find jobs in media-related industries from PR to branding, advertising, entertainment law, political communication, and television broadcast. It is heartening to hear from employers how our students often bring both breadth and depth to their jobs because of the engagement between their film and media courses, and the broader context of the humanities. The introductory film and television course is also very popular with engineers, who enjoy the way the focus on visual language complements their own studies.
The value, then, of teaching film and television studies is that it offers students the opportunity to make sense of the world by deconstructing the given and the assumed, and gives them a chance to represent the world through critical analysis and visual storytelling. What of teaching itself, and the way we teach at university? I am concerned sometimes that learning has become a 'hum', a treadmill of classes and assignments, punctuated by assessment criteria and accompanied by the omnipresent demands of social media telling students about the world 'out there'. How, then, to make learning, studying, research, writing, and discussion interesting when there is little time for material that 'isn't relevant': "Will it be in the exam?", "How much does it count for?", and "Is there a sub-minimum for the exam?" In short, I believe class should be fun, that all work is creative, that work should be the product of curiosity, that doubt is beneficial to learning, and that 'class' - whether inside a room, or in the corridors, or outside - is the best place to try out ideas. A lecture should encourage students to find out more than I can cram into 45 minutes. A tutorial is not just a supplement to the lectures, but a space for discussion with their peers, a place to be wrong, a place to ask 'what if' or 'but what about?'
---
This work is licensed under a Creative Commons Attribution-NoDerivatives 4.0 International License.
Please view the republishing articles page for more information.
---