A new paper shows that protected areas are boosting fish stock beyond their perimeters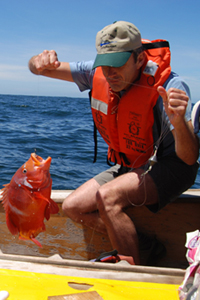 Face to face: Dr Colin Attwood lifts a Red Roman - a species he is researching - out of the water during an excursion.
There's a well-thumbed seafood recipe book of a certain vintage that Dr Colin Attwood is trawling for among his academic tomes.
"It must be at home," he says, disappointed. He's keen to show that flecking, gutting and filleting a wide variety of fresh fish was part of the ordinary housewife's culinary skill-set not too long ago.
But the fishmongers and wet fish markets (where one could buy a whole kabeljou, steenbras, or the ubiquitous Red Roman) have all but disappeared, along with the success of artisanal and recreational fishers. The collapse of the country's inshore fisheries has prompted the creation of several marine protected areas along South Africa's 3 300km coastline.
These have allowed dangerously depleted fish populations, like the Red Roman (Chrysoblephus laticeps), to be replenished.
But the reserves haven't been popular with everyone, particularly not the struggling fishing communities reliant on a collapsing resource. These communities include those of Struisbaai, Kassiesbaai, Kalk Bay and others, who believe government has effectively shut down their livelihoods. However, a new paper in Nature Communications, harnessing 28 years' worth of data collected by the former Department of Agriculture, Forestry and Fisheries, shows the converse: that a reserve actually improves the fishing yield, without disadvantaging artisanal fisheries.
The Department of Biological Sciences' Attwood co-authored the paper with colleagues: research associate Dr Sven Kerwath and postdoctoral research fellow Dr Henning Winker.
Kerwath and Winker have been collecting data on satellite-tracked Red Roman for three to four years, working off boats in the Goukamma reserve between Sedgefield and Buffalo Bay.
Red Roman is a good species to study, says Attwood. It's an endemic, sequential hermaphrodite (mature females turn into territorial males), reef fish that has become over-exploited.
Their study shows that catches of Red Roman increased in the vicinity of the Goukamma Marine Protected Area, contradicting trends across the species' distribution.
Attwood and his co-authors are confident that marine reserves are not only doing a good job of protecting species – "That's your capital in the bank" – but are also increasing fish stocks outside the reserves.
Their research provides empirical evidence that that the loss of fishing ground to protected areas is more than compensated for by an increase in their catches beyond these boundaries.
Two mechanisms were likely to have caused the increase, says Attwood. "The first was simply a result of the protected fish abandoning their home ranges in Goukamma as fish densities increased and then straying outside, into the range of fishers.
"The second, a delayed effect, resulted from a boost in egg production from the protected area."
Red Roman egg spawn floats, and currents ensure that the young are distributed some distance from the spawning event, and well outside the protected area by the time they boost fisher's catches.
"It takes four to five years for fish populations to increase. But it takes time to build spawn stocks and for juvenile fish to grow. Steenbras take 20 years to mature."
"We need a very robust way of protecting fish and the livelihoods of people," Attwood adds.
"For marine protected areas to gain acceptance among fishers, it's necessary to show that the loss of part of their fishing ground is more than compensated for by an increase in their catches."
Story by Helen Swingler.
---
This work is licensed under a Creative Commons Attribution-NoDerivatives 4.0 International License.
Please view the republishing articles page for more information.
---