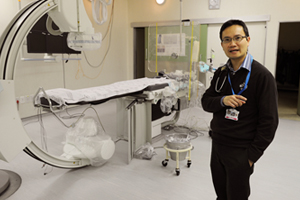 Heart to heart: Dr Ashley Chin explains, how the radio frequency ablation technique corrects arrhythmias.
Eight young children have had life-changing arrhythmia procedures at the Red Cross War Memorial Children's Hospital in the past two months. And there are more patients to come.
This follows the successful non-surgical correction of a nine-year-old girl's heart rhythm abnormality (arrhythmia) by UCT-affiliated surgeons at the hospital in August, thanks to the Western Cape Government's recent purchase of new radio frequency ablation equipment for the hospital, advancing care for children with heart rhythm disease.
The first patient was able to leave the hospital a day after being admitted, free of medication and free of a malady that tires the heart muscle and can precipitate heart failure, palpitations, blackouts and fatigue.
The successful pilot was the forerunner of a service launched officially this month at the hospital. In the past, arrhythmia corrections were performed at Groote Schuur Hospital (GSH). Both facilities serve as UCT teaching platforms. GSH's Dr Ashley Chin conducted the ablation procedure at the Red Cross Hospital, assisted by the catheterisation laboratory staff. UCT-trained, Chin completed his training at GSH and spent two years at McMaster University in Canada learning ablation techniques. These skills are being transferred to paediatric surgeon Dr George Comitis and his team at the Red Cross Hospital.
Radio frequency ablation is a highly successful intervention for arrhythmias, delivering electrical energy to the heart via a slender catheter inserted percutaneously into the venous system, via the jugular or femoral veins, to ablate or burn the abnormal electrical circuits. To position the catheters, cardiac electrophysiologists are guided by fluoroscopy, an imaging technique using X-rays to get real-time, moving images of the patient's heart. They map the heart's electrical signals via a computerised mapping system to determine the nature of the arrhythmia.
"The pattern of the signals also tells us what type of arrhythmia we're dealing with," Chin explained.
A variety of atrial or ventricular arrhythmias are found in children. But the first patient at the Red Cross Hospital presented an interesting case.
"Her arrhythmia was caused by an accessory pathway, a congenital abnormality that connects the atrial and ventricular muscle and causes a re-entry arrhythmia."
Chin and the team managed to ablate the accessory pathway, restoring the heart's circuitry. Depending on the complexity of the case, each takes three to four hours to complete. Success rates are high, with only 1% risk of serious complications, says Chin.
Although this therapy has been available for many years at GSH and other 'adult' centres in Cape Town, the recent developments at Red Cross Hospital mean children with rhythm disorders can be treated in a child-focused facility.
Story by Helen Swingler.
---
This work is licensed under a Creative Commons Attribution-NoDerivatives 4.0 International License.
Please view the republishing articles page for more information.
---