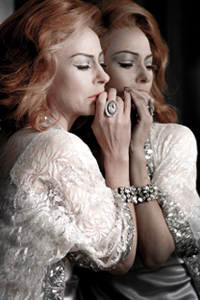 Self-reflection: Jennifer Steyn is one of the UCT alumni who will perform at the Provincetown Tennessee Williams Theatre Festival.
One year after becoming the first African theatre company to perform at the Provincetown Tennessee Williams Theatre Festival in the USA, a locally based company is set to perform two classic productions at this year's festival in September.
Abrahamse & Meyer Productions, a Cape-Town based independent theatre company, was co-founded in 2006 by UCT drama school alumnus Fred Abrahamse and Marcel Meyer. Their production of Kingdom of Earthimpressed Provincetown audiences in 2012, and this year the group will add another Williams classic, The Milk Train Doesn't Stop Here Anymore, to their repertoire.
The UCT flag will fly proudly at the festival, with Abrahamse (director, set and lighting) and actors Nicholas Dallas, Jennifer Steyn and Roelof Storm all UCT alumni. Meyer designed costumes while Charl-Johan Lingenfelder composed the music, including an original score for Kingdom of Earth.
"I suppose it's just a validation for us," said Abrahamse of being the first African company to be invited to the festival. "We've always thought that everything from 'overseas' is better... I think we do well in sport, but when it comes to art, we kind of undermine ourselves. I think we've got something we can be very proud of, and I think we can be particularly proud of the kind of training we get here." Their performance at the 2012 Festival was widely acclaimed.
Curator of the Provincetown Tennessee Williams Theatre Festival David Kaplan said: "Our audiences – and the other festival artists from around the world – were startled and moved by the care and insight this South African company brought to a very American play, revealing its universality, and at the same time, flooring us with the precision of the Mississippi accents and the loving details of American bad taste.
"The Milk Train Doesn't Stop Here Anymore has Abrahamse & Meyer pursuing Williams' vision of theatre, past kitchen-sink realism, to poetry onstage: a South African fulfilment of an American author's lifework," adds Kaplan.
That 'uniquely South African' flavour, Abrahamse explains, is the depth of emotion that his cast and crew was able to draw on. Growing up during the dark days of the apartheid era and experiencing the atrocities and states of emergency allowed Abrahamse and his actors to relate intimately to the Kingdom on Earth characters – who are immersed in a racially-charged family feud in the 1960s Mississippi Delta. The Milk Train Doesn't Stop Here Anymore is set in Italy, and centres on a dying, wealthy woman who catches a young man trespassing on her estate. It is one of the more common Tennessee Williams works to see the light of stage in recent years, while Kingdom of Earth is a lesser known work.
"Part of the aim of our company is to bring classic works to life," says Abrahamse. "The play is in the 1960s; the Washington riots were happening at the same time that South African mothers were sitting outside the Union Buildings and burning their pass books. There are such parallels.
"We [SA and the US] share an incredible history of slavery and the emancipation of the black man, so we found a massive amount of conversation that happened over there in 2012."
Abrahamse & Meyer Productions will perform the two plays from 26-29 September at the Festival. Upon their return to South Africa, The Milk Train will stop at the Artscape Theatre from 4-19 October.
Story by Yusuf Omar
---
This work is licensed under a Creative Commons Attribution-NoDerivatives 4.0 International License.
Please view the republishing articles page for more information.
---