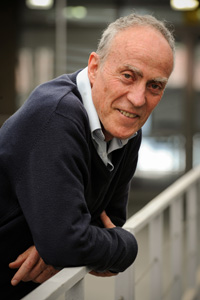 Drive development: Prof David Kaplan will use his extensive experience with government in a new role as a board member of the Technology Innovation Agency.
Top economist and policy expert Professor David Kaplan says South African universities must capitalise on commercialising their research.
Kaplan who is based at the School of Economics' Centre for Policy Research in International Services and Manufacturing has been appointed to the board of the national Technology Innovation Agency (TIA). A new agency with a "very wide mandate", TIA is posed to play a critical role in universities' research and commercialisation endeavours, says Kaplan.
TIA was established by an Act of Parliament in 2008 with the objective of intensifying innovation in order to improve growth and the quality of life of all South Africans. Kaplan's role as a Board member will be to help set the strategic direction of TIA.
The seasoned economist has h a special interest in technology development and policy, industrial policy, telecommunications, and the migration of skilled people.
He says that although South Africa is credited with high-quality scientific research institutions, strong investment in research and a significant level of collaboration between business and universities, the country lags in the commercialisation of new knowledge.
"We have world-ranked scientists and some high-level science '" the Square Kilometre Array is an example. We have many creative people. But good research institutions and good ideas are not enough, he says. There is a "chasm" between the idea or the research output and its application or commercialisation.
The critical question is how government and business can collectively translate these ideas into new firms, products and employment opportunities," Kaplan said. This is where the TIA plays a critical role, bridging this gap between the inventor or researcher and the marketplace to ensure bright new ideas and technologies are carried through to application.
"Increasingly, universities as public-funded institutions are being asked: what is the value of your research? What is the return to society?"
Kaplan has extensive experience in working with government. He was chief economist at the Department of Trade and Industry between 2000 and 2003 and chief economist (part-time) in the Department of Economic Development and Tourism in the Western Cape 2004 -2010. Supported by the IRD, a research development agency in France, he established the South African Network of Skills Abroad, a network that helps South Africans abroad use their skills to support development in South Africa.
At UCT he founded the Science and Technology Research Centre in 1994 and established the Development Policy Research Unit with two colleagues in 1990.
Story by Helen Swingler. Image by Michael Hammond.
---
This work is licensed under a Creative Commons Attribution-NoDerivatives 4.0 International License.
Please view the republishing articles page for more information.
---