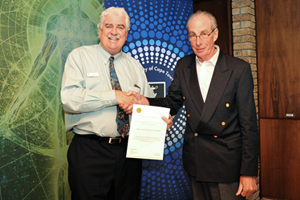 Jim McNamara (outgoing director of the Development and Alumni Department) handed a certificate and pin to Mr Noel McIntosh in gratitude for a large contribution that was made.
Postgraduate nursing studies at UCT received a major boost with a bursary fund worth R1 million established by alumnus Noel McIntosh.
McIntosh and his family were honoured with the Chancellor's certificate of award and the Chancellor's Gold Circle Giving Pin - bestowed on UCT's biggest donors - on 7 July. The Marjorie McIntosh Postgraduate Bursary in Child Nursing and Midwifery will support two postgraduate students per year.
McIntosh's late mother practised as a nurse and "had a long history of helping people in Africa, and she had a great passion for it", he said.
It was that legacy that the family wished to continue, said the senior McIntosh.
"Nurses do an incredible job," he said. "It's a calling."
And the McIntoshs were not content with merely dropping the money and leaving, suggesting an annual dinner where they could meet the sponsored students.
Associate Professor Sinegugu Duma, head of UCT's nursing and midwifery division, thanked the donors for their "generous support" of what is a prized medical skill in the country.
"Your financial support will open many opportunities for advanced nursing practitioners and midwives in the country," said Duma. "It will enhance their academic progress without the stress that's always associated with having limited funds. We know that is especially the case when it comes to nurses who come to the postgraduate programmes at a later stage [in life] when they have other responsibilities; they have families and kids that are already at school.
"This will really go a long way towards enhancing their academic progress," she emphasised, adding that limited funding was a distraction from the academic tasks. The bursary would also have many positive spin-offs, said Duma.
"Your contribution will also go a long way to helping this country meet its Millennium Development Goals, including empowering women - while noting that nursing is not an exclusively female profession - reducing the child mortality rate, improving maternal and child health."
---
This work is licensed under a Creative Commons Attribution-NoDerivatives 4.0 International License.
Please view the republishing articles page for more information.
---