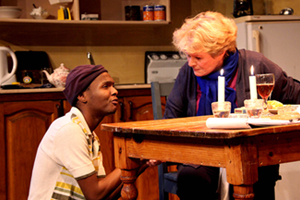 Khayelethu Anthony (left) and Dame Janet Suzman (right) share a moment in Lara Foot's award-winning play Solomon and Marion, which recently ran at the Baxter Theatre before heading off to the Edinburgh Festival. Suzman's return to stage after 35 years brings life to the story of two injured souls searching for redemption in fragile, post-apartheid South Africa. "I wrote this play with Janet in mind. The tone of her voice was in my head," explains Foot. "The play was motivated by a time in Cape Town when South Africa felt desperate, both politically and socially," she adds.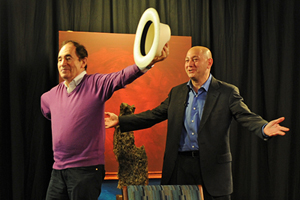 Justice Albert 'Albie' Sachs (left) lights up the set on a recent talk show with American host Steven Ray Goodman (right) for UCT TV. Sachs is regarded as an icon of the freedom movement in apartheid-era South Africa. After being arrested and placed in solitary confinement for over five months, he went into exile in England, and later Mozambique, where he lost an arm and the sight in one eye when a bomb was placed in his car by South African security agents. Titled Higher Education, the series being filmed by UCT TV includes interviews with other high-profile guests, such as Dr Mamphela Ramphele and Rhodes University Vice-Chancellor Dr Saleem Badat.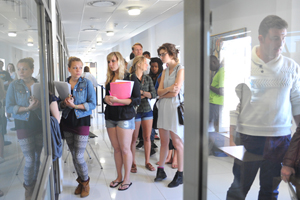 Semester Study Abroad students, dressed for the unseasonal warmth earlier this month, queue for registration at the International Academic Programmes Office on middle campus. This is required before international students can register at their faculties. During the course of last year, almost 1000 students registered for Semester Study Abroad, which is up from the previous year's 844. The highest number recorded over the past few years was 1026 in 2010, when South Africa hosted the Fifa World Cup soccer tournament.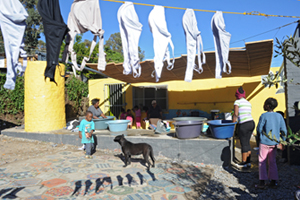 Residents of Imizamo Yethu in Hout Bay make use of a washing platform constructed during the June vacation by a team of second-year architecture students, a few key staff members, and members of the local community. The washing platforms are constructed and maintained by the students and are a way of providing additional services, more dignified places for water collection, and facilities for the washing of clothes. They are constructed in close proximity to shared toilet facilities and are built on an annual basis. This most recent example is the fourth of its kind to be built by UCT.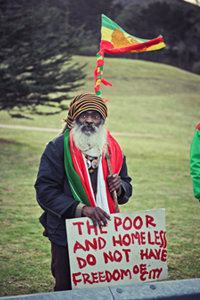 One of a handful of protestors waves his flag and clutches his sign on upper campus during US President Barack Obama's recent visit to UCT on an icy Sunday afternoon. The protest was staged to speak out against 'war crimes' allegedly perpetrated by Obama's administration, his inaction on environmental concerns and fracking, and the fact that he did not decline the honour of being a recipient of Cape Town's Freedom of the City Award. Inside the event on campus, more than a thousand attendees had gathered to hear Obama speaking in Jameson Hall.
---
This work is licensed under a Creative Commons Attribution-NoDerivatives 4.0 International License.
Please view the republishing articles page for more information.
---