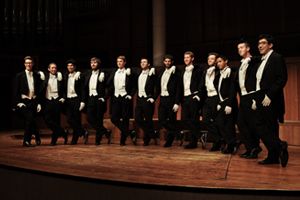 Whip-smart humour, pitch-perfect voices, and an unrivalled stage presence. This description sums up the show that blew audiences away at the Baxter Theatre Centre last night where Yale University's renowned collegiate a cappella group, the Whiffenpoofs, teamed up with the UCT Choir for a one-night performance.
The UCT Choir and Whiffenpoofs belted out excerpts from their respective repertoires in a show supported by UCT's Gordon Institute of Performing and Creative Arts, and the South African College of Music. The roster included a variety of choral music, from classical to contemporary genres, both secular and sacred.
The UCT Choir is a student-run ensemble. Notable recent performances include singing for the United Kingdom's Prince Charles in Jameson Hall and Sir David Attenborough at the Baxter Theatre, both in 2011. It was founded in 1985 and released its first CD in 2010.
Meanwhile, 14 senior Yale men are selected for the Whiffenpoofs each year, which is reportedly the world's oldest collegiate a cappella group. The group was founded in 1909 and has performed for guests such as Mother Teresa, the Dalai Lama as well as a range of US presidents. Their voices that echoed through Baxter Theatre last night have previously graced venues like Carnegie Hall and the Lincoln Centre, while they have appeared at such events as The World Series, Saturday Night Live, The West Wing, and NBC's The Sing-Off.
Last night's show was the first time a Whiffenpoofs line-up performed at UCT. The men from Yale will now head off to Thailand for the next leg of their 87-day, 24-country world tour.
Story by Yusuf Omar, picture by Jenine May
---
This work is licensed under a Creative Commons Attribution-NoDerivatives 4.0 International License.
Please view the republishing articles page for more information.
---