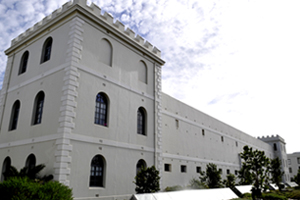 The University of Cape Town's Graduate School of Business (GSB) has received accreditation from the Association to Advance Collegiate Schools of Business (AACSB), making it one of the few business schools in the world to hold the prestigious title of being 'triple-crown' accredited.
In 2012 the GSB received accreditation from AMBA (the Association of MBAs) and was recently re-awarded accreditation from the European Foundation for Management Development, which awards the European Quality Improvement System (EQUIS) accreditation.
With the recent AACSB accreditation, the GSB is now one of just 59 out of 13,670 business schools worldwide to be triple-crowned - schools that are accredited by the three largest and most influential business school accreditation associations.
Director of the GSB, Walter Baets, says that the prestige that comes with being triple-crowned is not to be taken lightly. "These accreditations are extremely valuable for a business school. Although many dismiss them as mere marketing collateral - they are an important investment in the quality of a business school," he says.
"This has implications not just for the GSB but for business education in South Africa and the African continent more generally. We are showing the world that African business schools can be taken seriously."
Baets says that accreditations serve the important function of quality control and isolate areas for a business school that could be improved upon: "The official purpose of accreditations is to be a tool to help improve the quality of business school education and the research we deliver, and they are an important investment in the quality of a business school."
Achieving accreditation is a process of rigorous internal review, evaluation, and adjustment and can take several years to complete. During these years, the school develops and implements a plan to meet the AACSB Accreditation Standards, which require a high quality teaching environment, a commitment to continuous improvement, and curricula responsive to the needs of businesses. Also required by the AACSB standards, all accredited schools must go through a peer review process every five years in order to maintain their accreditation.
According to Baets, in recent years the school has seen that accreditations and international rankings are increasingly important factors to prospective students, especially foreign students, of which the GSB has a growing number: "The GSB aims to raise the profile of emerging market business schools as centres of excellence and thought leadership, and to provide local and international students with the skills they need to take on the challenges of this decade's emerging markets. The accreditations have important implications for everyone connected to the school; our students and companies want to know that the business school they select has international recognition."
But Baets cautioned that while accreditations give the GSB an important international endorsement and benchmark - they should not take away its focus on developing African appropriate business schools. "We don't want to recreate Harvard in Africa," he says, "we need something that goes beyond that to address the specific challenges that Africa has. If we use the accreditations as a quality improvement exercise but keep our focus on our own context I believe we are on the right path."
In addition, Baets believes that African business schools must still make improvements to their external strategies. "We have learned from the accreditation process and feedback from the accreditation bodies that there are still a lot of misunderstandings about Africa and the role of African business schools - it is clear the world does not see Africa's promise.
"The GSB believes it is the responsibility of all business schools on the continent to change these perceptions by ensuring that African business realises its potential, and these accreditations can help us to do this," says Baets.
---
This work is licensed under a Creative Commons Attribution-NoDerivatives 4.0 International License.
Please view the republishing articles page for more information.
---