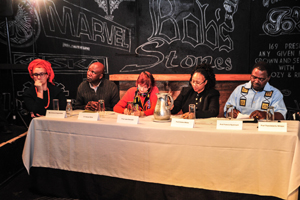 Tribute to a giant: (from left) Emma Arogundade, Dr Sanya Osha, Assoc Jane Bennett, Prof Zodwa Motsa and Prof Francis Nyamnjoh shared their insights into the life and work of the late Chinua Achebe.
A panel discussion inspired by African literary great Chinua Achebe, who passed away earlier this year, formed part of the closing proceedings of UCT's Africa Month celebrations on 24 May.
Acclaimed Nigerian author and international scholar Achebe, dubbed the 'grandfather of modern African literature', passed away in March, and the Africa Month Panel Discussion, hosted at the Golden Arrow Studio at the Baxter Theatre Centre, was titled Things Fall Apart?
Hosted by Deputy Vice-Chancellor Professor Thandabantu Nhlapo, the discussion featured Professor Francis Nyamnjoh, head of department at Social Anthropology in the UCT School of African and Gender Studies, Anthropology and Linguistics; Professor Zodwa Motsa, the country director of the University of South Africa; Associate Professor Jane Bennett, director of the UCT African Gender Institute and Head: UCT School of African and Gender Studies, Anthropology and Linguistics; Dr Sanya Osha, research fellow at the Institute of Economic Research on Innovation at Tshwane University of Technology; and Emma Arogundade, senior researcher at the Human Sciences Research Council.
To show respect to Achebe (who was buried on 23 May in his home village of Ogidi in Anambra State), a moment of silence was held before the panellists shared some perspectives on his life and works, and his importance to the continent and African identity.
Nyamnjoh, who discussed Achebe's use of proverbs, noted that "in his proverbs, Achebe has left us with enough food for thought on power, politics, relationships and encounters, to ensure that things do not fall apart in our continuous quest to be and become African in an ever-changing world.
"According to Achebe, proverbs bring out the universal in the particular and make words more palatable – they are 'the palm oil with which words are eaten'. Achebe uses these proverbs to share with his readers the Igbo cultural values and world views, as well as to domesticate, localise, indigenise or render culturally or contextually relevant the English language."
Bennett touched on her own experience as a child in then-Rhodesia (now Zimbabwe) at the time of the Chimurenga War, and called into reference Achebe's short story Girls at War, which she described as "an extraordinary story for its time".
"There were in fact many girls at war on our continent, and Achebe's is one of the first of the very powerful stories that explore the politics of sex and gender in this context," explained Bennett.
Osha explored the various legacies of Achebe's engagements to isolate what makes him unique in global culture; his work as a literary artist, his work as a builder of institutions, and his contributions to public reasoning. The lasting contribution Achebe made, added Osha, was the way he said that we as Africans do not have to be apologetic about our stories.
Arogundade said that "our stories are the cornerstone of our reality, but we also interpret reality through these stories. Achebe was aware of the dominant narratives of his time that shaped the colonial world, the narrative that colonialism was the arrival of the civilised world."
The panel discussion was the keynote event of the Africa Month celebrations, which culminated with the launch of the second book in the publication series Celebrating Africa. The book is a compilation of the papers presented at the Africa Day Panel Discussion in 2012, under the theme African Culture, Human Rights and Modern Constitutions.
---
This work is licensed under a Creative Commons Attribution-NoDerivatives 4.0 International License.
Please view the republishing articles page for more information.
---