Africa Month is packed with highlights. Here are a few examples:
Transforming a continent
"To some, Africa is disappointing as much as it is promising - disappointing in the sense that although it has massive potential, we do not seem to know how best to unlock it." But, he adds, "Africa is promising in that there are so many avenues that can be explored, thereby transforming the continent into a competitive global knowledge producer". This is the view of Shadreck Chirikure, senior lecturer in the Department of Archaeology and convener of the May 23 round table discussion on Afropolitan research opportunities and constraints: creating knowledge for transforming and empowering Africa. The discussion will be hosted by UCT's Research Office and the International Academic Programmes Office (IAPO). One of the speakers is Professor Ambroise Wonkam, from the Division of Human Genetics in the Faculty of Health Sciences.
Developing vaccines for bacterial diseases
Bacterial diseases kill several million children every year, mainly in the developing world, and immunisation against these pathogens is the most effective and cost-efficient means to protect children's lives in that context. "Glycoconjugate vaccines, in which the surface carbohydrate of a microbial pathogen is attached to a carrier protein, now prove to be the best means to generate protective immunity," says Professor Neil Ravenscroft of the Department of Chemistry's Bioanalytical and Vaccine Research unit. On 14 May Ravenscroft will present a seminar on the topic, titled Cape to Chiron: Developing glycoconjugate vaccine for Africa.Ravenscroft will discuss progress towards developing affordable glycoconjugate vaccines and the crucial role played by physicochemical and immunochemical methods in the development, characterisation and licensure of new vaccines against meningitis, pneumonia and enteric diseases. The seminar starts at 16h00 in LT3 in the PD Hahn Building.
AIDS, race and medical research
Carla Tsampiras's seminar From 'Dark' Country to 'Dark' Continent: AIDS, 'Race', and Medical Research in the South African Medical Journal, 1980 - 1995, will be presented on 14 May. The topic is drawn from Tsampiras's recently completed PhD thesis. "Racist theories have been neither the preserve of one era, nor of one community of people, and they have certainly crossed academic disciplines," said Tsampiras, who hails from Rhodes University's history department. "In research examining the relations between medicine, science, and racism, much has been written about the constructions of Africa as a 'sick continent' and of black bodies as not only 'diseased' but also 'hypersexual'. In the 1980s a new syndrome - eventually called AIDS - would draw on old images and stereotypes to apportion blame to 'high-risk groups', including 'Haitians' and 'Africans'." Tsampiras will focus on the interplay between AIDS narratives, 'race' and science by analysing articles from the South African Medical Journal. Her seminar is from 13h00 to 14h30 on 13 May in the HUMA Seminar Room, 4th floor Humanities Building, upper campus.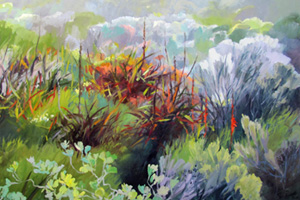 Fine Arts
Jenny Parsons exhibition at Irma Stern
Observing Africa Month means celebrating our vast African landscape across different types of media in fine arts. An exhibition launched at the Irma Stern Museum, Against the Light by artist Jenny Parsons, features landscape paintings and drawings of the Cape's treasure trove of fynbos. Her work explores the early morning light on the fynbos-covered hillsides of Silvermine Nature Reserve. The exhibition runs until May 25.
Cinema and lectures
The invisible children Some of the highlights from the Africa Month programme this year are in cinema. Aside from various screenings, the African Cinema Unit in The Centre for Film and Media Studies has focused on bringing international scholars and visiting filmmakers to the university. One such scholar is Dr Alexie Tcheuyap (Department of French, University of Toronto) who will participate in seminars and a senior undergraduate lecture on film representation of child soldiers. On 13 May Dr Alexie Tcheuyap will present a seminar on his book, 'Postnationalist African Cinemas'. 10am at the Arts 209, Upper Campus. On May 14, the real story behind African child soldiers will come under the spotlight in a 'Film in Africa' lecture by Dr Tcheuyap in Arts 100. Often referred to as the "invisible children," child soldiers are orphaned by AIDS, violence and war. Some are as young as 7, and at least 40 per cent of them are said to be girls.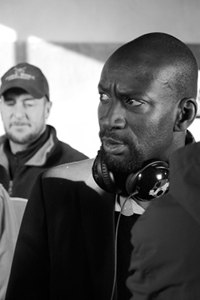 Examining Xenophobia
UCT alumnus, actor and filmmaker Akin Omotoso's work has been chosen as one of the main screenings for Africa Month. On 15 May, his award-winning film Man on the Ground which explores the xenophobic attacks in South Africa, will be screened. The film won five awards at the 4th annual African Audio Visual Awards (TAVAs) held in Lagos, Nigeria. The screening takes place at the Beattie Building 114 at 4:30pm. Omotoso will also conduct a master's class on 18 May in Arts 203.
Stories in motion How are African stories being told in an era of alternative film distribution and mobile communications technologies? This controversial subject will come under discussion on May 16, in a panel discussion on Contemporary Popular Cultures in Africa: 'Stories in Motion' co-hosted by UCT's African Cinema Unit and the English Department. The panel will comprise Dr Tcheuyap, Dr Christopher Ouma from the Department of English, and Ms Vuyolwethu Lima from the Durban University of Technology.
Akin Omotoso, UCT alumnus and director of Man on the Ground, screening at 4:30pm in the Beattie Building Rm 114 on May 15th.
Pelargonium and Glads by artist Jenny Parson.
---
This work is licensed under a Creative Commons Attribution-NoDerivatives 4.0 International License.
Please view the republishing articles page for more information.
---