UCT Press, a division of Juta and Company Ltd, publishes peer-reviewed scholarly books with an African context. Many provide a bridge between the campus and the community. UCT Press has several titles, some authored or edited by UCT academics, which embrace topics as diverse as biotechnology, statistics, politics and gender. With UCT's Africa month in mind, Monday Paper took a look at the new titles. (Information courtesy of UCT Press.)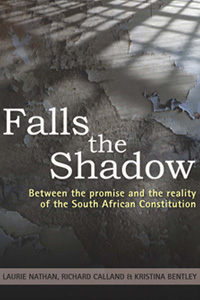 Falls the Shadow: Between the promise and the reality of the South African Constitution.
Editors : Laurie Nathan, Richard Calland, Kristina Bentley (for publication in June 2013)
South Africa supposedly has one of the best constitutions in the world, one which is intended to control and constrain the exercise of power by the state so that it doesn't threaten the liberty and security of citizens. But in reality, does the Constitution contribute more to the security of some groups than others? Does it help to ensure certain types of security, but not others? And does it have greater impact on some institutions than others? The book is based on the assumption that the Constitution has a significant impact on the security of South African citizens and communities - but that this impact is differential. It is recommended for legal professionals; academics who focus on constitutions, rights and security; students of politics and law; and members of the South African public who have an interest in human rights and their protection under the Constitution. Nathan is a research fellow at UCT and the London School of Economics (LSE). Calland is an associate professor in public law at UCT. Bentley is a senior research officer with the Democratic Governance and Rights Unit in UCT's Department of Public Law.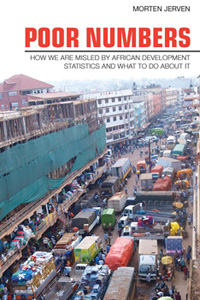 Poor Numbers: How we are misled by African development statistics and what to do about it.
Author: Morten Jerven
Existing data on income and growth in sub-Saharan African countries are unreliable - even seriously misleading. Jerven provides the first systematic analysis of the level, direction and causes of the errors, looking at a range of African countries from Benin to Zambia, and includes South Africa. He then explains why these errors matter. What seem like dry numbers can actually have a huge impact on the welfare of these developing countries. Economic growth rate estimates and per-capita income statistics are vital for local governments and for economic aid. Jerven's research suggests that data supplied by national records and statistical offices substantially misstate the actual situation. As a result, scarce economic aid is misapplied, policymakers' attempts to improve their citizens' lives are frustrated, and donors have no accurate sense of the impact of their aid. Jerven explains what can and should be done to improve the guidelines for both the production and use of statistics. The book is aimed at academics in and students of statistics, economics, and development studies, policymakers, and NGOs. Jerven, assistant professor of International Studies at Simon Fraser University, Canada, specialises in economic history.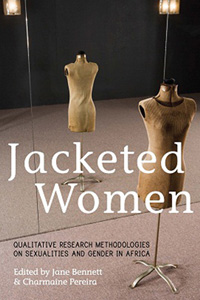 Jacketed women: Qualitative research methodologies on sexualities and gender in Africa. Editors: Jane Bennett and Charmaine Pereira
Over the past decade, there has been increasing emphasis in African scholarship and research on the importance of understanding sexuality and the issues around it, such as identity, sexual rights and sexuality, reproductive health and rights, and gender and political democracy. Despite this, Africa has frequently been found by researchers to be predominantly hostile to any discussion of sexual and reproductive rights, conveying dismay at the notion of women's rights to reproductive freedom, disgusted objection to the idea that gay and lesbian people have civic and human rights, and opposition to engagement with issues such as FGM (Kenya), virginity testing (South Africa), and Shar'ia interpretations of appropriate sexuality (Nigeria and Sudan, among others). In 2004, the African Gender Institute ran a continental research project called Mapping Sexualities. Among its objectives was the development of an appropriate research methodology for carrying out in-depth case studies of the dynamics of gender and contemporary sexual cultures in Ghana, Nigeria, South Africa and Uganda. The book contains photographs by Zanele Muholi. The book is recommended for academics and students of gender studies, social anthropology, human rights and public health, and for NGOs working in these sectors. Bennett is an associate professor, director of the School of African and Gender Studies, Anthropology and Linguistics, and director of the African Gender Institute at UCT.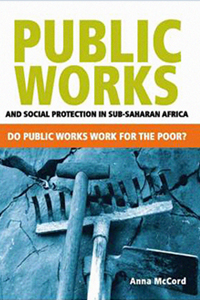 Public works and social protection in sub-Saharan Africa: Do public works work for the poor? Author: Anna McCord
Public Works Programmes (PWPs) are widely implemented throughout Asia, Latin America and Africa, often with funding from major international donor agencies. They are perceived to present a 'win-win' policy option, providing employment to the chronically poor while also creating assets for the state, and in this way offering a welfare transfer that is also a tangible economic investment. The prevailing view among donors and government agencies with responsibility for social protection is that PWPs are preferable to other measures for assisting unemployed people living in chronic poverty. But is this view in fact correct? This book critically explores the concept of the Public Works Programme (PWP) and interrogates its social protection performance in the context of chronic poverty. It reviews over 200 PWPs in eastern and southern Africa using original research drawn from extensive field analysis, interviews and survey work, and examines case studies of six international PWPs - in India, Argentina, Ireland, Ethiopia, Indonesia and the US. The book is recommended for academics and students in development economics and sociology, policy-makers and -designers, and donor officials such as the World Bank and DFID. McCord is a Research Fellow in Social Protection at the Overseas Development Institute in London, and was previously research manager at UCT's South African Labour and Development Research Unit.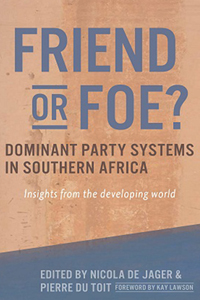 Friend or foe? Dominant party systems in Southern Africa: Insights from the developing world.
Editors: Nicola de Jager and Pierre du Toit
Within Southern Africa, there has been a steady increase in the number of dominant-party systems - systems in which one party dominates over a prolonged period in an ostensibly democratic system, with regular elections and multiple parties participating. This party system has replaced the one-party system that dominated Africa's political landscape after the first wave of liberations in the 1950s and 1960s. This book seeks to understand this trend and its implications for Southern Africa's democracies, by comparing such systems in Southern Africa with others in the developing world (such as Mexico, India, South Korea and Taiwan). In particular, the case of Zimbabwe stands out as a worrying example of the direction a dominant party may take: regression into authoritarianism. Mexico, India, South Korea and Taiwan present alternative routes for the dominant-party system. De Jager is a lecturer in the Department of Political Science at the University of Stellenbosch. Du Toit is a lecturer in political science at the same university.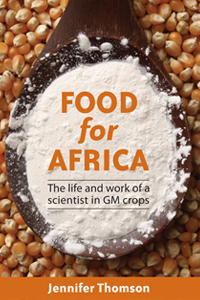 Food for Africa: The life and work of a scientist in GM crops. Author: Jennifer Thomson
Retired UCT academic Emeritus Professor Thomson has addressed the world's leaders at the UN, and sat in the hot seat at the World Economic Forum in Davos, persuading economists that genetically modified food is the answer to food security in Africa. She has won the L'Oreal Women in Science award. How did someone who thought she would choose the career of a teacher end up as a microbiologist in a very male-dominated arena, and become one of the world's leading scientific advisors? In Food for Africa, Thomson traces - through anecdote and science - the development of a hotly contended area of research, from the dawn of genetic engineering in the US in 1974, through the early stages of its uptake in South Africa, to the current situation, in which approximately 80% of maize in South Africa is genetically modified for drought resistance. The publication is recommended for the layperson interested in the facts of genetic modification; academics in the field of plant genetics and food security; and policy-makers.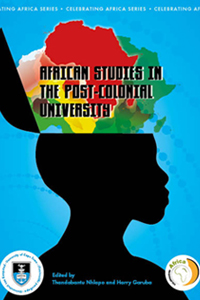 African Studies in the Post-Colonial University,part of UCT's Celebrating Africa Series.
Editors: Thandabantu Nhlapo and Harry Garuba.
Published by the university in 2012, the book is described as a timely contribution to the debates about the role of the university in post-colonial African society, and to the soul-searching that invariably accompanies the question of the study of Africa in such institutions. It asked pertinent questions such as: Are centres of African studies still relevant in the modern African university? Are they doomed to a permanently marginalised existence by their dubious pedigree, which goes back to the colonial projects in which they first emerged, and their subsequent association with area studies during the Cold War? Is the expectation that a self-respecting African university should have no truck with the adjective 'African' - because everything it does should reflect that perspective anyway - always an honest one? The authors, UCT's Professor Nhlapo, a deputy vice-chancellor, and Garuba, an associate professor in African studies, provide refreshing answers to these and other questions, in the light of UCT's own strategic goal of internationalisation with an Afropolitan niche. Contributors include Lungisile Ntsebeza, Adeboyo Olukoshi, Leonhard Praeg and Mpilo Pearl Sithole.
---
This work is licensed under a Creative Commons Attribution-NoDerivatives 4.0 International License.
Please view the republishing articles page for more information.
---