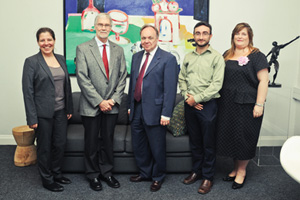 A delegation from the Eberhard Karls Universität Tübingen visited UCT earlier this month to discuss intensifying existing collaboration between South Africa and Germany, in this the 2012/2013 German/South African Year of Science. Pictured (left to right) are Eberhard Karls Universität Tübingen's Exchange Co-ordinator, Ms Nici Sauer; UCT deputy vice-chancellor Professor Danie Visser; Universität Tübingen's Vice President: International, Prof Heinz-Dieter Assmann; UCT School of Economics' Dr Patrizio Piraino; and Acting Director of UCT's International Academic Programmes Office (IAPO), Lara Dunwell. Prof Visser and Prof Assmann agreed to continue the work between the two universities and to seek opportunities for reciprocal student exchange, as well as enhanced research collaborations. UCT and Eberhard Karls Universität Tübingen have been connected for almost 15 years, through the IAPO, which receives their students on semester study abroad.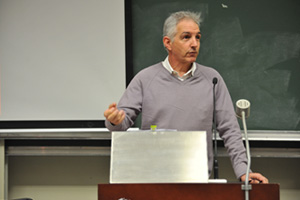 Student opinion matters when it comes to maintaining UCT's high academic standards, said Vice-Chancellor Dr Max Price at a student-hosted discussion on the subject. UCT pays careful attention to maintaining the highest academic standards, continued Price, and the student voice was an important factor in measuring how well UCT is performing. The discussion kicked off the annual Academic Activism Week, between 22 and 26 April, which is organised by the university's Students' Representative Council (SRC) to raise awareness among students about issues that affect their academic well-being. The theme for 2013 was Quality Assurance at UCT. Other events included a panel discussion on the balance between teaching and research, the setting-up of the mobile SRC office on Jammie Plaza, and a book drive by activist student societies.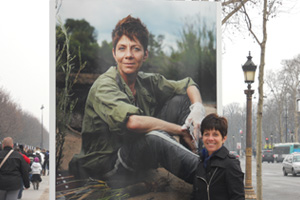 Prof Jill Farrant below a poster of herself, part of the 15th anniversary exposition on the Champs-Élysées in Paris of the 77 winners of L'Oreal-UNESCO Women in Science Award. Farrant won the African/Arab states title in 2012, one of three UCT women scientists to have done so. Other UCT Laureates are Emer Prof Jennifer Thomson (2004), and Prof Valerie Mizrahi (2000). Thomson and Farrant work in the area of plant biotechnology and molecular physiology respectively, and Mizrahi in infectious diseases.The award recognises women whose exceptional careers in science have opened up new and sometimes revolutionary ways of improving human well-being.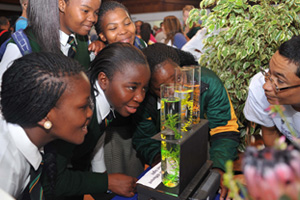 The Mother City wore her finest on Saturday 13 April to welcome hundreds of prospective UCT students to Open Day. Pupils from schools as far afield as Grahamstown, Johannesburg and Oudtshoorn jostled for information; particularly in the Jameson Hall, where the Faculty of Science's hands-on exhibitions drew scores of interested viewers (in picture). Particularly visible were groups of pupils participating in UCT's Schools Improvement Initiative's 100Up project. Some 20 schools in Khayelitsha take part in this initiative, designed to help prepare 100 pupils from the area for possible admission to UCT in 2014.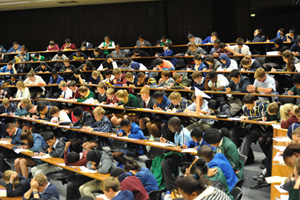 More than 7 000 participants attended the annual UCT Mathematics Competition on 17 April, representing a record 164 Western Cape schools. The question papers were set by more than 200 high school mathematics teachers – one for each grade – with the assistance of 30 UCT students. The competition is the biggest of its kind in the world. All participants write the papers at the same time and place. The 30 best-performing students from each grade will be invited to join the UCT Mathematics Circle, a programme of lectures and discussions during which UCT academics introduce the young mathematicians to topics outside the school curriculum. From that pool, and after a few more selection funnels, the South African team for the International Mathematics Olympiad – a competition that will be held in South Africa (and at UCT) for the first time next year – is selected.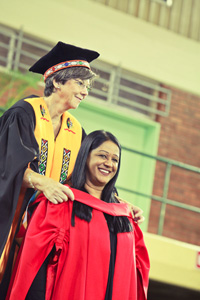 Dr Moonira Khan, executive director of UCT's Department of Student Affairs (DSA), recently graduated with a doctorate from the University of Kwazulu-Natal (UKZN). The DSA is responsible for providing support and development services for UCT's more than 24 000 students. Khan's study, in the discipline of public governance, was titled Student Governance in Higher Education Institutions in the Western Cape, South Africa: A Case Study. Khan says that the study has deepened her insights and critical reflections on student affairs, particularly the significance of a robust student governance environment in higher education, and the role of student leaders in contributing to the democratisation of universities.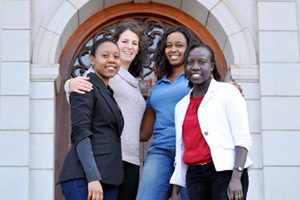 Four UCT postgraduate students have been awarded the Schlumberger Foundation Faculty for the Future scholarship, a prestigious international fellowship given to women from developing countries who are currently studying abroad. The scholarship is aimed at academically excellent women in the fields of science and technology who wish to teach in their home countries on completion of their PhD programmes. Recipients are (from left), Liabo Motleleng from Lesotho (Department of Chemical Engineering), Taryn Morris from South Africa (Biological Sciences Department and a current recipient), Tsungai Jongwe from Zimbabwe (Department of Medicine) and Antonina Wasuna from Kenya (Department of Chemistry). Another recipient, Naa Dedei Tagoe from Ghana (Department of Architecture, Planning and Geomatics) is not pictured.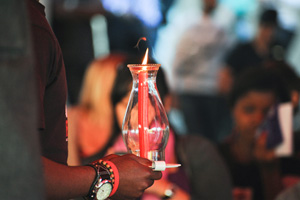 UCT will hold its annual Candlelight Memorial Ceremony on Jammie Plaza at lunchtime on 9 May, coinciding with memorials held internationally that commemorate those who have died from HIV/AIDS. Organised by the HIV/AIDS Institutional Co-ordination Unit (HAICU), the Memorial Ceremony is also used as an opportunity to create awareness about issues associated with HIV and AIDS. This year a special dance piece, choreographed by UCT alumnus Sacha Hendricks, will depict the breaking-down of the stigma surrounding HIV/AIDS. HAICU's Lucina Reddy explains that Hendricks was approached because she has choreographed work that speaks to social justice issues. In addition, first-year Fine Art students from Michaelis will exhibit art reflecting the theme of the event.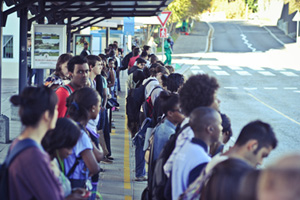 The national strike led by the South African Transport and Allied Workers Union affected UCT's Jammie Shuttle service last week. Reduced capacity on 24 and 25 April saw long queues at major shuttle stops around campuses as some drivers joined the strike. Some students were put out by delays, while others sympathised with the drivers, saying it was their right to air their grievances. "We do understand that it's a strike and we have no control over that; people want more wages because the cost of living is high," said Yonique Morta, a first-year BCom student. "I've been late for one or two classes, but not that many," remarked Neo Mayo, a first-year music student."
---
This work is licensed under a Creative Commons Attribution-NoDerivatives 4.0 International License.
Please view the republishing articles page for more information.
---