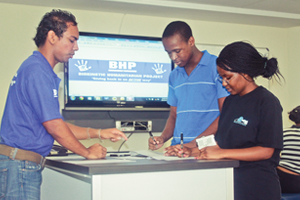 A Biokinetic Humanitarian Project (BHP) initiative at UCT's Obz Square residence on 16 and 17 March saw participants being screened, tested, educated and given exercise programmes to do at home. BHP is a non-profit, community-based organisation that fosters physical activity and exercise education in underprivileged communities around South Africa. This is achieved through fundamental exercise testing and screening, patient education and exercise programmes. The initiative is open to interested students, communities and health professionals who would like to volunteer their assistance and support. In the picture, senior secretary Lance Walbrugh assists two of the roughly 250 participants at the event.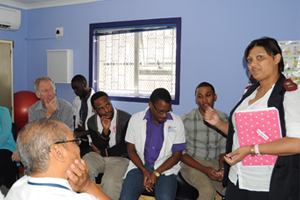 In partnership with the provincial Department of Health's West Coast District, UCT's Faculty of Health Sciences recently transformed a disused building at the Hanna Coetzee Clinic in Vredenburg into a student learning centre. Originally occupied by LoveLife, it now comprises two consulting rooms, a multi-purpose room for providing rehabilitation services, a patient waiting area and toilets. Students have been using this new facility since the beginning of 2013 to supplement the services already provided by the Hanna Coetzee Clinic to the community of Louw-ville, a socio-economically stressed township on the outskirts of Vredenburg. Seen at a gathering to mark the official opening of the Hanna Coetzee Clinic Student Learning Centre on 19 March are (from left) Carine Bester, Western Cape Government; Prof Steve Reid, Faculty of Health Sciences; students Ose Okharedia, Edwill Plaatjies, Mark Jali and Quentin Isaacs; and Sr Samantha Coraizin, Hanna Coetzee Clinic.
Back in time: UCT archivist Lionel Smidt with the first book of UCT Senate minutes, from 1829. The university's Senate is officially 175 years old this year, although it was actually constituted 184 years ago. The first meeting of Senate was held on 21 August 1829, but a new Senate was formally constituted by the ordinance of 1837, which came into effect in 1838 – hence the 175-year landmark. Until 1838 the College Senate consisted of equal numbers of Council members and academic staff (professors) and was chaired by a member of the Council. The 1837 Ordinance provided for a Senate of two directors, together with the professors (to this day Senate includes two Council members), and its role was set down in the ordinance.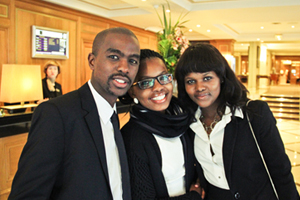 Three UCT students wowed Paris judges of the Pernod Ricard International Business Game where their digital marketing strategy tied for first place with a team from Russia. (Left to right) Business Science students Tetlanyo Lekalake and Thembeka Setlogile from the Faculty of Commerce, who teamed up with computer science student Sizwe Ndlovu, represented South Africa at the finals in snow-laden Paris recently, winning internships in Europe as their prize. Their storytelling technique and passion for the African market helped to secure them the top slot. The UCT team beat competitors from Europe, Turkey and Russia. Dean of the Commerce Faculty, Prof Don Ross expressed his congratulations to the team.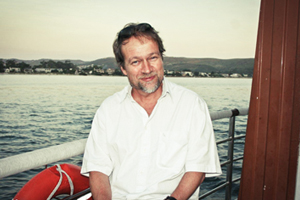 UCT creative writing master's student Hennie Nortjé has just been awarded the Eugène Marais Prize for Debut or Early Work for his anthology of Afrikaans poetry, In die Skadu van Soveel Bome. The anthology is a collection of poetry that tells stories about indigenous trees, a deep love of Nortjé's. "In writing, you have to go for where your passion lies, and I found inspiration in indigenous trees and a deep longing to be immersed in nature," he said. Nortjé finished his master's at UCT at the end of 2011. He started writing the anthology soon after the course was completed, and the book was published in November last year by NB publishers (Queillerie). Last week he received the exciting news of his prize. "Eugène Marais is an iconic figure of the highest order when it comes to Afrikaans poetry. To receive this prize is such an honour for me," he said.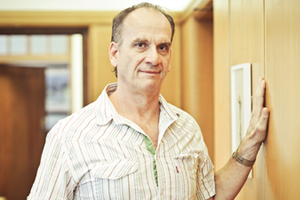 Wood you believe it: Professor Robert Cameron, of UCT's Department of Political Studies, was surprised to discover recently that the high-quality wood panelling in Vice-Chancellor Dr Max Price's office in Bremner Building, as well as in the lobby, was installed by none other than his late father, John (Jock) Cameron, in 1963. "I checked with the Registrar, Hugh Amoore, and he said as far as he was aware it is still the original panelling that had been put in place by my dad," says Cameron. His father was a shop fitter/carpenter who did his trade in the Clyde shipyard in the UK in the 1930s. He fought for the British army in World War II, and emigrated to South Africa shortly afterwards. He worked for chartered architects Brimble and Briggs, who had the contract for the UCT panelling work, and Cameron Jr found a reference from the company commending his father for the skill and expertise with which the panelling was installed.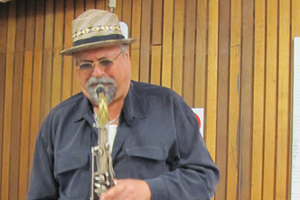 Jazz tenor saxophonist, Blue Note recording artist and winner of several Grammy Awards Joe Lovano presented a workshop at the SA College of Music in April. The 90-minute workshop, organised by Professor Mike Rossi for SACM, was presented to jazz studies students and staff. Lovano was a guest artist of the recent 14th Cape Town International Jazz Festival, performing with the Jack DeJohnette Trio. He began playing the alto saxophone at five, and switched to the tenor a few years later. By the time he turned 16, Lovano was a member of the Musician's Union, Local 4, and working professionally. He now travels the globe teaching and playing.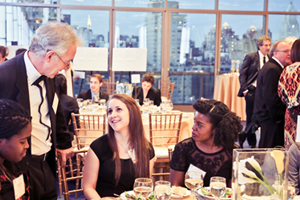 Vice-Chancellor Dr Max Price welcomed over 200 alumni from the US and Canada to the Faculty of Health Sciences centenary gala dinner in New York on 31 March. The dinner capped a year-long programme of activities that commemorated the birth of Sub-Saharan Africa's first medical school on 6 June 1912. Price, who hosted the event, said the occasion was also an opportunity to laud the achievements of alumni who had "spread our reputation far and wide". Guest speakers included former vice-chancellor and Head of Medicine at UCT, Emeritus Professor Stuart Saunders, and 2011 MBChB graduate Dr Vuyane Mhlomi. The incumbent Dean, Professor Wim de Villiers, who is concluding his work in the US till he takes up his position at UCT in July, was introduced to guests.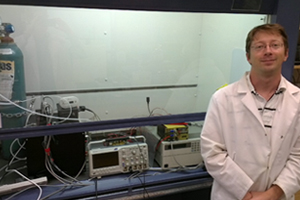 Chris de Beer, a UCT electrical engineering doctoral student, has won the best paper award at a major international energy research conference. De Beer's research into the condition monitoring of proton exchange membrane (PEM) fuel cells won top honours at the annual IEEE International Conference on Industrial Technology in February. The paper, titled Degradation of High Temperature PEM Fuel Cells and the Impact on Electrical Performance, was authored by De Beer, and co-authored by his supervisors at UCT's Department of Electrical Engineering, Dr Paul Barendse and Professor Pragasen Pillay, and collaborators Brian Bullecks and Professor Ragunathan Rengaswamy of Texas Tech University, where De Beer spent seven months doing research and prototyping new test stations.
---
This work is licensed under a Creative Commons Attribution-NoDerivatives 4.0 International License.
Please view the republishing articles page for more information.
---