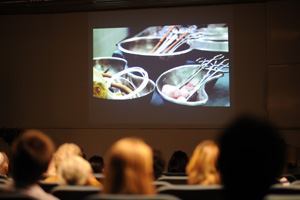 All the gory details: The Faculty of Health Sciences's short film gives viewers an inside look at one of Africa's leading medical research and teaching institutions.
One hundred years ago, UCT's Faculty of Health Sciences opened its doors to groom the next generation of medical professionals.
To commemorate its centenary - part of a long programme of celebrations throughout the year - a short film, entitled, "The UCT Faculty of Health Sciences at 100" - documenting the faculty's evolution - was produced to reflect on its captivating past, present and future. Revealing interviews with its oldest known living graduate, veteran academics and ambitious current students paint a picture of an institution that has negotiated a tumultuous political climate to consistently attract and produce students and staff of the highest calibre; one that can be proud of its many cutting-edge research advancements.
Guests at the film's launch on 28 November journeyed with the faculty from its original Hiddingh Campus home that it quickly outgrew to its current Observatory base, through to the dark days of apartheid bigotry that was punctuated by world class innovation, spearheaded by Dr Christiaan Barnard's pioneering heart transplant. It was an era, explained the dean of the Faculty of Health Sciences, Professor Marian Jacobs, that witnessed the "juxtaposition of the best in the world with the worst in humanity".
The film also speaks about the transformation that has taken place over the past 100 years, not only in the demographics, the curriculum, and in growing peer status worldwide, but also the integration of the allied health sciences encompassed in the move from being a Medical School to a Faculty of Health Sciences, and the adoption of the Primary Health Care approach based on a philosophy of social justice in healthcare.
Rich with insights from the faculty's esteemed academics and knowledgeable students, the documentary, much to Jacobs' delight, captures the essence of the faculty in terms of its cutting-edge research, excellent teaching and rich innovation, with a committed focus to responding to the health needs of the country and beyond.
The film was produced by UCT's Centre for Film and Media Studies (CFMS). So successful was the partnership between the faculty and the CFMS that the latter's director, Professor Ian Glenn, observed that he was "keen to keep the collaboration going".
Here's to the next 100 years of excellent medical academia, during which Jacobs said, "I will be watching from above and cheering".
---
This work is licensed under a Creative Commons Attribution-NoDerivatives 4.0 International License.
Please view the republishing articles page for more information.
---