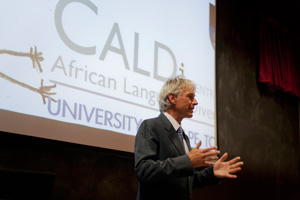 Dr Matthias Brenzinger.
Arather bizarre situation prevails in the studies of African languages: the discipline is dominated by scholars from outside the continent, with only very few African scholars being involved.
In response, UCT recently established the Centre for African Language Diversity (CALDi) and The African Language Archive (TALA).
According to Dr Matthias Brenzinger, who heads both research hubs, the focus of both initiatives is to counter that trend, as well as to work for the return of and availability of crucial data on African language. CALDi's main objective is the study and documentation of African languages.
Linguistics as an academic discipline evolved in Europe, but African languages have featured quite prominently in studies conducted by scholars since the mid-19th century, explains Brenzinger. For a number of reasons, African linguistics is still dominated by non-Africans.
The meagre supply of archives, as well as early grammars on African languages written in Latin, German, Italian and other non-African languages, together with the lack of training in African linguistics at African universities, seems to have caused this situation, at least to some extent.
"There are currently more German universities teaching African languages in linguistics than in South Africa, and there is also France, Japan, the US, the UK and Poland, just to mention a few of the other countries with long traditions in the study of African languages. For that reason, it is not surprising that most linguists working on African languages are from outside Africa," Brenzinger says.
At UCT, linguistics had previously been part of the Department of English Language and Literature. It was only early this year that it joined the School of African and Gender Studies, Anthropology and Linguistics, or AXL, in which CALDi is located. Together with CALDi, TALA has been established, being a member of the global Max Planck Institute Language Archives Network, based in Nijmegen, Netherlands.
TALA is housed under UCT's Central Library and Archives, and is the first facility of its kind on the African continent.
Brenzinger noted that a key priority for CALDi will be to engage scholars in more in-depth study and training on the documentation of African languages, and in so doing it will promote linguistic diversity on the continent. In turn, TALA has been created to archive digital language data, such as video and audio files, images and documents.
Together it is hoped that the two will address the current dearth in the study of African linguistics in South Africa and the rest of the continent.
The main aim of CALDi is to attract a greater number of master's and PhD students into African linguistics who are actually speaking African languages. Most of the more than 2,000 African languages are still widely spoken, and some by many UCT students; nevertheless, they are treasured and studied predominantly by outsiders.
"The CALDi initiative underscores the university's commitment to Afropolitanism", says Brenzinger. "At present, it seems easier to recruit students passionate about studying African language from other African countries.
"CALDi and TALA, however, will hopefully have a positive impact in raising appreciation of African languages in South Africa. The languages spoken on this continent constitute a substantial part of the world's language, and as such are part of the cultural heritage," Brenzinger commented.
Discussions on the return of artefacts to their places of origin have been advocated by UNESCO and other international organisations for decades, but no single mention of the return of intellectual heritage has been put forward yet, says Brenzinger.
"Through TALA and CALDi, we will hopefully initiate and facilitate the return of language recordings and research findings to speakers and their descendants."
---
This work is licensed under a Creative Commons Attribution-NoDerivatives 4.0 International License.
Please view the republishing articles page for more information.
---