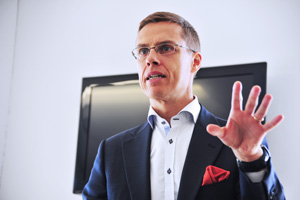 Though Alexander Stubb, Finnish minister of European affairs and foreign trade, supports the integration of sovereign states; he does not believe there is a readiness in SADC or the AU for a single currency in a similar vein as the euro.
The creation of a single currency must be backed up by an economic union.
This was the advice reluctantly given by Alexander Stubb, Finnish minister of European affairs and foreign trade, on a recent visit to UCT's Department of Economics. He was reacting to a question about the lessons Africa could learn from the introduction of the euro as the official currency in 17 of the 27 member states of the European Union (EU).
Stubb's reluctance stemmed from the fact that he believed that it was not fair to compare the African Union to the EU. He also believed that "the trend is towards regional integration", as opposed to the integration on a grand scale as in Europe.
Stubb was in South Africa to promote trade with Finland and delivered a lecture, titled Will Europe Survive the Current Crisis?, in which he identified the root of the European financial crisis as the failure to combine a monetary union with an economic union.
Thus the EU has "exclusive competence on monetary affairs", but member states retained control of (among others) fiscal policy".
He remained optimistic about Europe's chances to weather the economic storm, adding that one should "never underestimate the European capacity to make tough decisions when our backs are to the wall".
---
This work is licensed under a Creative Commons Attribution-NoDerivatives 4.0 International License.
Please view the republishing articles page for more information.
---