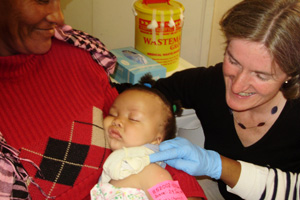 Turning point: Researcher Prof Helen McShane of Oxford University with one of the first babies enrolled in the SATVI study for a TB vaccine.
The search by the South African Tuberculosis Vaccine Initiative (SATVI) for a new TB vaccine for infants has entered its closing phase, with all visits complete and data cleaning in progress.
The results that will show if the vaccine candidate MVA85A that was administered to nearly 2,800 babies from July 2009 to May 2011 is successful in preventing TB, are expected to be released in February 2013, according to Dr Hassan Mahomed, senior clinical researcher at SATVI and principal investigator on the trial.
SATVI, located in the Institute of Infectious Disease and Molecular Medicine, is the largest dedicated TB vaccine research group on the African continent. Its objective is to find new, effective, affordable vaccines to save hundreds of thousands of lives worldwide.
Mahomed explained that this vaccine has previously undergone extensive testing and found to be safe.
"With this trial, we will find out for the first time if the vaccine protects against TB," he pointed out. If the results are positive, further testing will still be needed before it can be rolled out for public use but this will be a major milestone in the search for a new TB vaccine.
The trial was conducted in towns in the Cape Winelands East Region, including Robertson, Worcester and Ceres, and is expected to be completed in early December. It is a collaborative initiative between SATVI, US-based Aeras and Emergent Biosolutions, as well as the Wellcome Trust and the University of Oxford.
Mahomed said that after four and half years of hard work, everyone is excited to have reached this stage.
"There have been many challenges along the way, but we have always managed to overcome them. We will be making history for UCT, and confirm our place as the best research site globally to do TB vaccine trials."
---
This work is licensed under a Creative Commons Attribution-NoDerivatives 4.0 International License.
Please view the republishing articles page for more information.
---