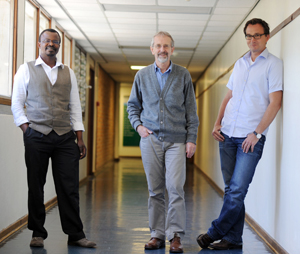 Team building: (From left) Profs Pilate Moyo and Mark Alexander with Assoc Prof Hans-Dieter Beushausen.
UCT's Concrete Materials and Structural Integrity Research Unit is racking up a growing number of accolades and honours.
UCT's Concrete Materials and Structural Integrity Research Unit (CoMSIRU)was formally established just two years ago. But it has been two decades in the making, both through the endeavours of individuals and, since 2006, a research group in the Department of Civil Engineering. Its concerns have always been much the same - building capacity in an unsung discipline of engineering: the maintenance and repair of infrastructure. Now, not only has the unit cemented its reputation for its pioneering work in the field, but its students are also amassing awards aplenty, and the unit is on the verge of launching a first-of-its-kind master's programme.
At CoMSIRU they can still remember how, not too long ago, academics were scouring countries near and far for graduate students.
Professor Mark Alexander, who lay the foundation for the unit with his own research in the early 1990s and now heads it, was pitching in Kenya. At the same time, Professor Pilate Moyo - just promoted to full professor - was recruiting in Zambia. And Associate Professor Hans-Dieter Beushausen - also just promoted - travelled to Germany and other European countries to enlist students there.
"We only had about one PhD student each and were all wondering where the next student was going to come from," recalls Moyo.
This was around 2005 or 2006. What a difference a few years can make.
In 2012, CoMSIRU boasts no fewer than 35 postgraduate students, including 10 PhDs. And many of those students, quite a few of them women, are making their mark.
This year, the Department of Science and Technology (DST) presented Women in Science Fellowships to master's student Lombe Mutale and doctoral student Gladwell Nganga. In turn, star pupil Rachel Muigai, who bagged a scholarship worth a princely R300,000 from the Cement and Concrete Institute in 2009 and a L'Oréal-UNESCO Fellowship in 2011, just recently won a Green Talent Award, presented each year by the German Ministry of Education and Research (BMBF) to 20 talented researchers from around the world. Muigai is the second CoMSIRU student to pick up a Green Talent Award, following in the wake of current PhD student Mike Otieno in 2010.
Medals galore
It's not just the students beating the unit's drum. In March this year, Alexander and Beushausen - with Otieno - were named the winners of the prestigious Wason Medal for Materials Research for 2012 by the American Concrete Institute (ACI), this for the publication of their joint paper, Suitability of Various Measurement Techniques for Assessing Corrosion in Cracked Concrete, published in the ACI Materials Journal in 2010.
In September, Alexander was elected as President of RILEM (The International Union of Laboratories and Experts in Construction Materials, Systems and Structures), becoming the first scholar from Africa to be so appointed. In addition, Beushausen serves as chairperson of one of RILEM's technical committees.
There have been other major milestones for CoMSIRU. In 2011, it was awarded full research unit status at UCT, becoming the first official research unit in the Department of Civil Engineering. And in September, the unit hosted a very successful 3rd International Conference on Concrete Repair, Rehabilitation and Retrofitting, or ICCRRR 2012, as well as the Annual RILEM Week (where Alexander was named president), an event that attracted some 420 participants, including 200 overseas delegates. (The unit had also hosted the previous two ICCRRRs, in 2005 and 2008, then under the auspices of the South African Research Programme in Concrete Materials, run in partnership with Wits University.)
Finally, come 2013, CoMSIRU will launch its first full master's stream in the department, a master's in Civil Infrastructure Management and Maintenance.
The unit's achievements are all the more impressive when seen in the light of the work it's engaged in - "infrastructure performance and renewal". Or, as the unit's academics explain, "maintenance and repair".
Traditionally, it's understood that civil engineers apply their labours and skills to building new structures, be they bridges or wastewater treatment facilities, sidewalks or rail systems. But what happens over time, when corrosion starts to eat away at a dam's concrete, or bridges weaken under their daily load of wear and tear?
Initially, when Alexander started the unit, its focus was very much on the building of more (but new) sustainable structures. That changed as Moyo and Beushausen joined.
Now, CoMSIRU commits much of its time to infrastructural deterioration. Its concerns include deterioration science, developing and applying assessment models and technologies to examine the conditions and processes under which structures and materials break down, and extending the service life of physical infrastructure systems and components.
All this work, as can be seen, revolves around modest concrete. (Several chunks are on display in Beushausen's office.)
That focus is reflected in the work of the students. DST winners Mutale and Nganga, as well as Green Talent's Muigai, are looking at various aspects of concrete sustainability, whether it's on the penetration of chloride into the concrete, reducing the clinker or cement content of the concrete, or thinking up prediction models for concrete sustainability.
Public infrastructure
CoMSIRU's work is becoming all the more timely, too. The cost of maintaining the country's aging infrastructure gets a number of mentions in the National Development Plan of the National Planning Committee.
"Around the world, in civil infrastructure management, we teach students about building new structures," says Beushausen. "In the meantime, most money is spent on repairing infrastructure, because our infrastructure built over the past 50 years is falling apart."
Alexander cites the pervasive "short-termism" for the current infrastructure worries.
"We don't value public infrastructure as we should as a society," he says. "We have become a self-enrichment society where the value of public space and public enterprise is downgraded. Consequently, we do not look with pride on the quality of our public infrastructure."
Teamwork
The honours and accolades, international allure and growing student cohort reflect the quality of the work being done at CoMSIRU, all three academics agree. And students, especially those from elsewhere in Africa, are initially attracted to the unit and its programmes as much as they are to the university brand, which they certainly enjoy when they get here. Reports would also suggest that graduates' word-of-mouth is making it easier to get others to enrol.
The three academics all agree that teamwork is key to their work and results. They are pooling their sometimes overlapping interests to good effect - in sustainable structures, structural dynamics and assessment, reinforcement corrosion, durability testing, and computational modelling, among many other areas.
"We combine a good range of skills and techniques and expertise," says Beushausen.
The students, adds Moyo, are responding to that. "There's a sense of belonging."
---
This work is licensed under a Creative Commons Attribution-NoDerivatives 4.0 International License.
Please view the republishing articles page for more information.
---