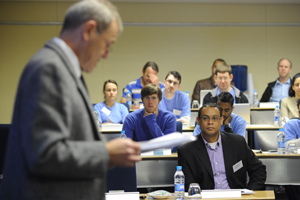 Bonds: Prof Kevin Naidoo (right) and the SCRU drew together experts from around South Africa, the US (Stanford was represented) and Germany, including (left) Prof Gernot Frenking of the Philipp University of Marburg. [COMPUTING SYMP001]
It's not too often that you'd hear talk of hydrogen storage, radio interferometer arrays, alloys, cloud computing, climate modeling, chemical catalysis and hadron colliders all at one symposium.
But there is a common denominator - scientific computing. Without fail, all the delegates at Frontiers in Scientific Computing, a symposium hosted by UCT's Scientific Computing Research Unit (SCRU) in Cape Town on 1 and 2 October, call on high-end hardware, software and sought after human computational skills in their daily activities.
Over the symposium, these delegates - chemists, biologists, engineers, physicists, computer scientists and backroom techies from across UCT and the Western Cape as well as Germany and the US - explored exactly how they do so. And while they may not always have grasped all the finer details of the others' work, the aim of the symposium was really to identify and explore their common ground, explained host, Professor Kevin Naidoo, director of the SCRU and holder of the national chair in scientific computing.
"There's a commonality in a lot of the techniques that we use, on the level of language and the machines that we use," said Naidoo. "And there's a lot to be learnt from that interface."
Both Naidoo and guest speaker, Dr Thomas Auf der Heyde, deputy director-general in the national Department of Science & Technology, cited the need to build human capacity in the computational sciences, this third way of doing research alongside the theoretical and experimental traditions. Naidoo estimated that the symposium, for which some 68 delegates, mostly from UCT, had signed up, represented a significant slice of the computational expertise in the country.
"This is just not sustainable, given the high demand for these skills in industry and academia. The talent base must be grown and grown very soon." he said.
---
This work is licensed under a Creative Commons Attribution-NoDerivatives 4.0 International License.
Please view the republishing articles page for more information.
---