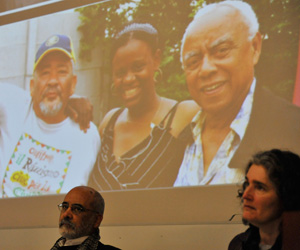 Family, loved ones, friends, old comrades, colleagues and students sang the praises of the late Dr Neville Alexander at a memorial service hosted by UCT and the Project for the Study of Alternative Education in South Africa (PRAESA), the initiative he launched at the university in 1992. Speakers commented on the many aspects of Alexander, but "principled" was the common adjective among their observations. That was illustrated, said PRAESA director Carole Bloch, by Alexander's unflagging commitment to mother-tongue education for young learners; until recently he still went out on Saturday mornings to read to children attending PRAESA's Vulindlela Reading Club in Langa.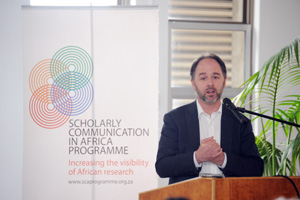 Global experts on open access and knowledge-sharing recently shared their views on the developments and trends in this rapidly evolving area at a UCT seminar hosted by the Scholarly Communication in Africa Programme (SCAP). The Open Access Strategies for African Institutions seminar was a precursor to the upcoming Berlin10 Open Access Conference to be held in Stellenbosch in November this year.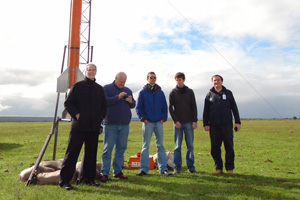 Two teams of students from the Introduction to Space Technology course took up the Cansat challenge in which they designed and built a pseudo-satellite, weighing at most 350 grams, with the dimensions of a standard cooldrink can. The two CanSats, which were launched on a rocket into the sky, had to collect acceleration, velocity and altitude data and transmit it to the ground in real time.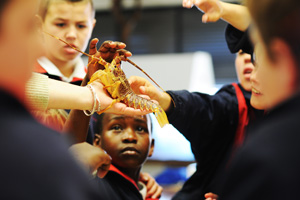 Grade-four learners from Sun Valley Primary near Noordhoek stroke a crayfish during a school outreach organised by UCT's Marine Research Institute, or MA-RE. One hundred and thirty learners took part in the outreach at the John Day Zoology Building, which was meant to illustrate the vital importance of our oceans and open their minds to a possible career in marine science.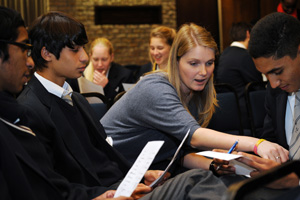 The annual Learners' Open Day of UCT's Division of Human Genetics, now in its fourth year, is becoming a hit among school kids. The hundreds of grade-11 learners who attended the latest edition certainly appeared to enjoy the workshops, discussions, hands-on sessions and simulations.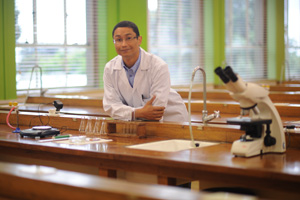 Dawood Hattas' work for his PhD on plant chemical defences won the best poster presentation award - his first - at the recent annual conference of the Grassland Society of Southern Africa. Hattas, senior technical officer in the Department of Botany, gave a paper and a poster presentation on his research, which looks at the plant compound known as tannin.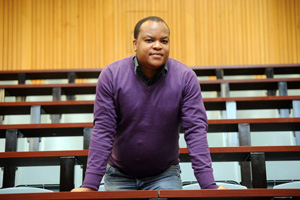 As the first winner of the academic excellence award at the inaugural South Africa Youth Awards held by the National Youth Development Agency (NYDA), UCT postdoctoral researcher Peter Malatji sets a fine example for aspiring academics and community workers. Malatji, who admits to being from a "difficult family background", recently handed in his PhD thesis in chemical engineering.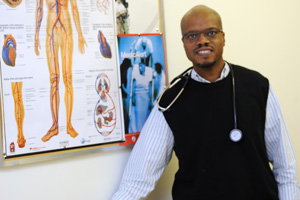 UCT cardiologist Dr Mpiko Ntsekhe has been elected as a Fellow of the American College of Cardiology (ACC), for his outstanding contribution to the field. As an ACC fellow, Ntsekhe, of the Department of Medicine, joins a select list of South African cardiologists who are international leaders in their field.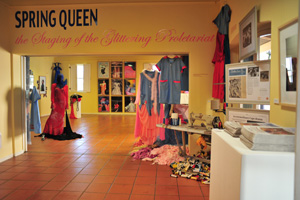 UCT recently held an exhibition - Spring Queen - the staging of the glittering proletariat - to showcase the ongoing story of the Spring Queen. Every year since the late 1970s Cape Town garment and textile factory workers have participated in Spring Queen - a fashion competition in which they represent their respective factories. The exhibition was curated by Dr Siona O'Connell of the Centre for Curating the Archive.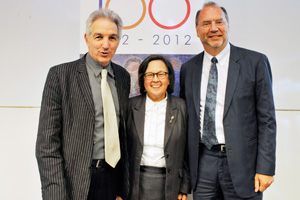 The Wolfson Memorial Colloquium, held recently at the Wolfson Pavilion, is set to become a regular fixture on the UCT events calendar. The theme for the inaugural event was Generating Knowledge Against Poverty, and speakers from various disciplines were chosen to cover a range of health areas relevant to people living in poverty. Photographed here are VC Dr Max Price (left), Dean Marian Jacobs and Baron Peter Piot.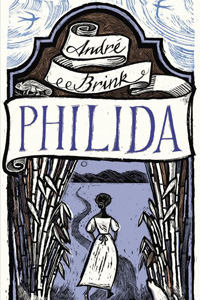 Prof André Brink, honorary professor and research associate in UCT's Department of English Language and Literature, is hoping that it's third time lucky for him after his book, Philida, was nominated for the Man Booker Prize. It's been a while since Brink's last nomination - he was up for the coveted award in 1976 and 1978. Winners will be announced in October.
---
This work is licensed under a Creative Commons Attribution-NoDerivatives 4.0 International License.
Please view the republishing articles page for more information.
---