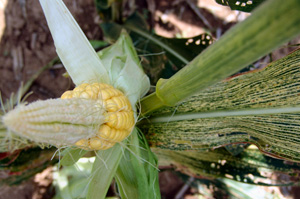 UCT scholars have joined the chorus of objection to the import of a genetically-modified maize variety that may soon hit South African shores.
At the end of July, the national Department of Agriculture, Forestry and Fisheries (DAFF) approved the import of the GM maize known as DAS-40278-9 for use in South Africa.
Produced by the US company Dow Chemical, the GM maize has been modified to be resistant to the pesticide 2,4-D. This 2,4-D was a key ingredient in the herbicide known as 'Agent Orange', used by the US military during the Vietnam War as part of its herbicidal warfare programme.
Now groups such as the African Centre for Biosafety, a non-profit organisation based in Johannesburg, are concerned that the use of DAS-40278-9, dubbed 'Agent Orange Maize' by the media, would lead to even greater application of 2,4-D, which studies have linked to a rash of human diseases and conditions.
Already considered the most widely used herbicide in the world, the "widespread planting of 2,4-D-tolerant maize could trigger a 30-fold increase in the herbicides' use by the end of the decade", said the ACB in a 6 August petition to the National Assembly, citing a US agricultural scientist.
That petition also called for a ban on the import "for food, feed and processing" of the maize, and for "a full enquiry into the decision-making process around GMO permits in South Africa".
Three UCT scholars have signed their names to that petition - Professor Mohamed Jeebhay, Professor Leslie London and Professor Jonny Myers, all of UCT's School of Public Health and Family Medicine.
"The introduction of the 'Agent Orange Maize' will open the door for further widespread use of this pesticide, among others, in South Africa," Jeebhay says.
Previous studies have shown that this herbicide is toxic to the immune system, and has been shown to upregulate cytokines associated with allergic diseases such as asthma as has been reported among Vietnam war veterans and their offspring, he reports.
Research conducted at UCT into pesticide use in Western Cape farms is also pointing to the increased role of pesticides in causing asthma among farm workers who are involved in pesticide spraying, as well as those who live on farms where they are exposed to the pesticide drift from farms, Jeebhay adds.
---
This work is licensed under a Creative Commons Attribution-NoDerivatives 4.0 International License.
Please view the republishing articles page for more information.
---