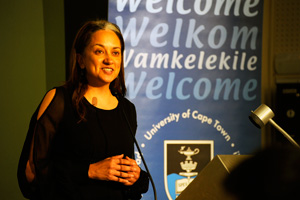 Freedom and faith: The Spear incident has changed her as a person, said Ferial Haffajee.
Ferial Haffajee cautioned early that she was going to start her delivery of UCT's 47th TB Davie Memorial Lecture on an unconventional note, especially in the light of how it was to conclude.
Addressing, on 1 August, easily the best-attended TB Davie Lecture in recent memory, Haffajee, editor-in-chief of City Press Newspaper, began by listing some of the country's recent success stories. She moved from Olympians Chad le Clos and Cameron van der Burgh, Nelson Mandela and Desmond Tutu, and South Africa's impressive economic performance to supermarket giant Shoprite's rising star, the greater number of matric passes, and the groundbreaking human geneticist Himla Soodyall.
But that's just one side of the story, Haffajee said. On the other there's an undemanding 30% pass mark for matriculants, poverty, blackouts and blueouts (when water supply gets cut off), wide-scale corruption and a shocking national audit that shows that most of those employed by the public service are ill-suited to their positions.
But even so, said Haffajee, the country has always been praised for its robust and healthy media. Time and again the courts have upheld the rights of the press against, notably, pre-press interdicts.
But this no longer matters, she added.
So Haffajee turned to the issue of The Spear, the painting by Cape Town-based artist Brett Murray (attending the lecture) that recently caused a furore, most notably when City Press was pressurised to remove the image of the painting from its website.
"I have no doubt that the fight about this was an easy comeuppance for a media with which the governing party is often at odds, because it dislikes the mirror we hold up to our society," she said.
Many then incurred Haffajee's criticism in the lecture - higher education and training minister Dr Blade Nzimande and the Film & Publication Board ("which I saw morph into a political handmaiden") not least among them. If taking down the image was done in part as an olive branch, the insults and attacks - and the loss of her freedom, piece by piece - that followed have forever altered her views, said Haffajee.
"The upshot of all of this is that I am a changed person. I am less a child of Mandela's generation and more a freedom-of-expression fundamentalist."
Knowing what she does today, she would not have backed down, said Haffajee. Now she would not seek to reconcile for the sake of a greater good.
It's not healthy, this fundamentalism, she conceded.
"But through this and other episodes in the years of freedom, I have come to understand that this lifeblood is so easily and so quickly undermined that you have to be extremely vigilant to protect its fragility, which - like our dignity - is just paper-thin."
If there is hope, closed Haffajee, it is that there is a growing civil-society movement showing the way, and standing up to a government that has shaken her faith.
The annual TB Davie Memorial Lecture on academic freedom was established by UCT students to commemorate the work of Thomas Benjamin Davie, vice-chancellor of the university from 1948 to 1955 and a defender of the principles of academic freedom. Listen to a podcast of Haffajee's lecture.
---
This work is licensed under a Creative Commons Attribution-NoDerivatives 4.0 International License.
Please view the republishing articles page for more information.
---