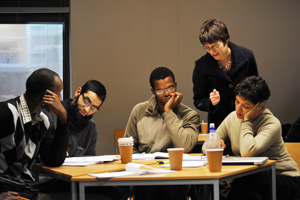 A mazy journey: Dr Mathilde Van der Merwe (standing) guides (from left) Jues Muvund, Shaheed Adams, Ndumiso Khovana and Estelle Cloete through the finer points of postgraduate research.
The world of scholarly research can be intimidating for those just entering the fray, so the Centre for Higher Education Development (CHED) has stepped in to provide some guidance.
Aimed at prospective postgraduate students, CHED's inaugural Navigating Research Literacies short course, which ran from 4 to 8 June, sought to orientate students to the unique demands of conducting research towards a master's or PhD degree.The course was developed by a team working across different units in CHED and was funded by a grant from the Department of Higher Education and Training.
Most students have very limited exposure to research during their undergraduate degrees, explain course convenors Drs Lucia Thesen and Mathilde van der Merwe. As a result, those who are transitioning from undergraduate to postgraduate studies (especially programmes with a research component), the workplace, or from different universities and disciplines have a particularly tough time.
"These students often find adapting to postgraduate studies challenging," says Van der Merwe.
Navigating Research Literacies steered students from expressing an initial interest in a research topic, through exploring research questions and articulating an argument. During the week, guest lecturers from a variety of disciplines shared their research experiences and there were sessions with the library and OpenUCT. "The focus of the course is on writing," says Thesen. "Each student writes a 1,200-word pre-proposal concept paper where they express how their research thinking progresses."
Navigating Research Literacies is the first focused and comprehensive course of its kind offered by CHED, and the faculty aims to offer it once or twice a year.
---
This work is licensed under a Creative Commons Attribution-NoDerivatives 4.0 International License.
Please view the republishing articles page for more information.
---