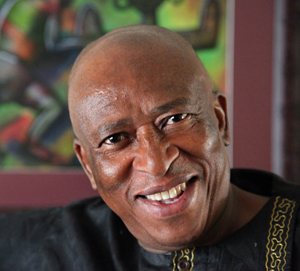 Acclaimed writer Zakes Mda has been named as the eighth public figure who will receive an honorary doctorate from UCT in 2012. Mda will be presented with an honorary doctorate in literature (DLitt) at a June graduation ceremony.
Novelist, poet, playwright, painter, composer and filmmaker, Mda was born in the Eastern Cape in 1948. He spent his early childhood in Soweto, but left the country in 1963 – when his father went into exile – at age 14, returning only after three decades in exile.
Over this period away from South Africa he would finish his first play, We Shall Sing for the Fatherland, which won the first Amstel Playwright of the Year Award in 1978.
That and other works allowed him to complete a master's degree in theatre at Ohio University. By 1984 his plays were performed in the USSR, the US and Scotland, as well as in various parts of southern Africa.
Mda then returned – but to Lesotho, first working with the Lesotho National Broadcasting Corporation Television Project, and then as a lecturer in the Department of English at the University of Lesotho. Between 1985 and 1992 he was director of the Theatre-For-Development Project at the university. Together with his students he travelled to villages in remote mountain regions, working with local people in creating theatre around their everyday concerns.
This work would form the theme of his doctoral thesis for the PhD degree awarded to him by UCT in 1990.
In the early nineties Mda spent much of his time overseas, serving as writer-in-residence at the University of Durham and as a research fellow at Yale University. He returned to South Africa for one year as a visiting professor at the University of the Witwatersrand.
Mda now commutes between South Africa (serving as director of the South African Multimedia AIDS Trust in Sophiatown) and the US, where he works as a professor of creative writing at Ohio University.
Mda is considered a key figure in South African literature. His works focus on South African politics after the fall of apartheid. He has earned countless accolades, including the Commonwealth Book Prize, the Sunday Times Fiction Prize and the M-Net Book Prize; while his 2004 novel, The Madonna of Excelsior, was named as one of the Top Ten South African Books Published in the Decade of Democracy
Public-health icon Dr David Sanders will also be honoured in June, while artist Marlene Dumas, physicist Jonathan Ellis, business executive Allan Gray, constitutional expert Nicholas Haysom, and Basil Jones and Adrian Kohler of the Handspring Puppet Company will be awarded honorary degrees in December.
---
This work is licensed under a Creative Commons Attribution-NoDerivatives 4.0 International License.
Please view the republishing articles page for more information.
---