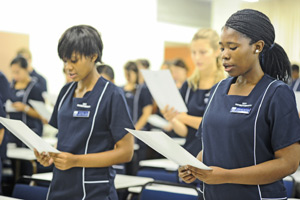 By the letter: Itumeleng Rantsane and Vatiswa Tom were among the UCT physio students who recited the division's oath.
After two long semesters spent buried under textbooks and lecture notes, things just got real.
Each year, just days before they enter the clinical part of their studies and begin diagnosing and treating patients for the first time, UCT second-year students from the Division of Physiotherapy are required to formally pledge their commitment to upholding the strictest standards in the services they offer. Which they again did at an oaths ceremony hosted by the division in February.
Chair of the faculty's Professional Standards Committee James Irlam, guest speaker at the event, explained that the oath is meant to prepare students for what lies ahead.
"It is about getting them to take seriously what it means to be a physiotherapist, and how that impacts on their relationship with their patients, and their colleagues," he says.
Earlier, Irlam had impressed on students the importance of maintaining ethical and profession standards to foster a nurturing environment for their patients.
Shamila Manie, of the Division of Physiotherapy, had some final words for the students being unleashed into the world of health care. "When you walk down the road now you are considered to be a professional by the clients you see, and you have to behave as a professional."
---
This work is licensed under a Creative Commons Attribution-NoDerivatives 4.0 International License.
Please view the republishing articles page for more information.
---