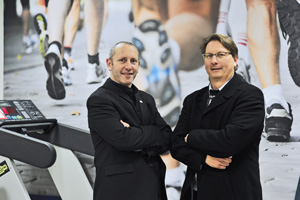 Paralympic pioneers: Profs Wayne Derman and Martin Schwellnus will lead a first-of-its-kind study at the upcoming Paralympic Games.
Top UCT sport and exercise medicine physicians, Professors Wayne Derman and Martin Schwellnus, have been commissioned by the International Paralympic Committee (IPC) to conduct pioneering research on injuries and illnesses suffered by athletes at the 2012 Paralympic Games, to run from 29 August to 9 September in London.
As part of a collaboration with the University of Brighton in the UK, the University of Calgary in Canada and the University of Utah in the US, Derman and Schwellnus, of the Clinical Sport and Exercise Medicine Research Group at the UCT/Medical Research Council Research Unit for Exercise Science and Sports Medicine (ESSM), will monitor each of the approximately 4,500 athletes at the competition with the aid of an electronic surveillance and online data-capturing system that they've developed specifically for this purpose.
Additional data will be harvested for a period before and for two weeks after the event.
Team doctors and other medical personnel at the Games' polyclinic will record details of athletes' gripes using a number of parameters. The doctors will then collate and analyse this data, says Derman, who will serve as the chief medical officer of the South African Paralympic team.
"This is the first of this type of study in the world, really," he notes.
"It's a big feather in our cap under our affiliation as an International Olympic Committee (IOC) research centre," adds Derman, alluding to the accreditation recently conferred on the Clinical Sport and Exercise Medicine Research Group led by Derman and Schwellnus.
Schwellnus explains that the "beauty" and "uniqueness" of the study is that the researchers will be able to track injuries and illness in Paralympians on a daily basis. It will be the first time that the latter will be done at the Paralympic or Olympic Games.
"The reason for all of this data collection is really so that we can use this information to plan a variety of different prevention strategies in the future," says Schwellnus. "We really want to reduce injuries and risk of illness. This has never been done for disabled athletes."
This data, says Schwellnus, will be used as a springboard for a longitudinal study to investigate the broader relationship between long-term injuries and illnesses and athletes' particular disabilities.
---
This work is licensed under a Creative Commons Attribution-NoDerivatives 4.0 International License.
Please view the republishing articles page for more information.
---