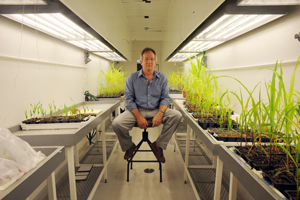 International leader: Prof Ed Rybicki, new recipient of a National Research Foundation A-rating.
UCT's top inventor, Professor Ed Rybicki of the Department of Molecular and Cell Biology, is UCT's newest A-rated researcher, following the release of the latest National Research Foundation (NRF) ratings.
This brings UCT's tally of A-rated researchers to 31.
In addition, Dr David Braun of the Department of Archaeology and Dr Amanda Weltman of the Department of Mathematics and Applied Mathematics were given P-ratings (President's Awards). Both Professors George Ekama and Hans-Peter Kunzi have retained their A ratings. Ekama, of the Department of Civil Engineering, is an internationally renowned expert in waste-water treatment. Kunzi, of the Department of Mathematics and Applied Mathematics, is one of UCT's most influential mathematicians and the leader of the university's Topology and Category Theory Research Group since 2001.
A-ratings are awarded to "researchers who are unequivocally recognised by their peers as leading international scholars in their field". P-rated researchers are young researchers (normally younger than age 35) "who, on the basis of exceptional potential demonstrated in their published doctoral work and/or their early post-doctoral careers, are considered likely to become future international leaders in their field".
"I know that you will delight with me in how each of them is making a difference on a global scale in very different fields, and in how they collectively symbolise the depth and rich variety of UCT's research," deputy vice-chancellor for research, Professor Danie Visser, wrote in a communiqué to the campus community.
Rybicki's impressive credentials include his 25-year career in plant virology and plant biotechnology and, since 1997, in vaccinology. His work on transgenic resistance to viruses in plants, begun by him and Professor Jennifer Thomson in the 1980s, culminated in 2007 in his lab engineering transgenic resistance to maize streak disease into maize - a development that is potentially of enormous economic benefit to small-scale farmers throughout Africa and the rest of the world.
However, Rybicki's greatest advances in the past decade have been in the field of plant-made vaccines.
"He has made a huge contribution to research in the amazing notion of using plants as production systems for vaccine antigens, and he has established one of the best labs in the world for this purpose," said Visser. "On top of this, he is a shining example of someone engaged in the full spectrum of the innovation chain. With 44 patents, he is also UCT's top inventor."
Braun focuses on human behaviour and biology over the last three million years, to gain an understanding of human adaptation during this period. His PhD research was on tool use and manufacture among early humans in East Africa. Since then he has broadened his research to include the behavioural evolution of ancient humans. Thus he was part of the team that presented evidence of the first signs of humans, including the fish in their diets; and in the team that discovered a preserved set of human footprints from 1.5 million years ago, providing valuable insight into the development of bipedalism.
It was while studying string theory and cosmology as a student that Weltman realised the powerful insights that each field could bring to the other. Her research over the past seven years has borne this out: her proposal of a new kind of field - what she has called a chameleon field - is the first dark-energy theory that can be tested in non-cosmological ways. (Dark energy, which can explain the mysterious accelerated expansion of the Universe, is said to make up about 70% of the Universe, while dark matter makes up about 25%. Everything else that is visible or can otherwise be detected is less than 5%.) Since her theory can and will be tested, it has the potential to provide "a unique and controllable way to understand dark energy that may never be possible within the limits of observational cosmology".
---
This work is licensed under a Creative Commons Attribution-NoDerivatives 4.0 International License.
Please view the republishing articles page for more information.
---