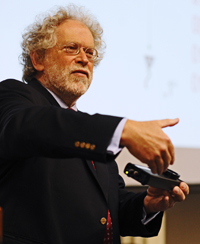 Keeping track: Prof Anton Zeilinger entertained and informed a UCT audience on the subject of quantum physics. (Listen to pod cast)
Consider a very simple experiment involving some light and a mirror. Half the light goes through the mirror, while the other half is reflected.
Remember, furthermore, that light consists of particles.
So what then determines which light particles will be reflected and which will be transmitted?
The answer, according to world-renowned physicist Professor Anton Zeilinger, is that it is entirely random: You will know which particles were reflected and which went through the mirror only after the fact - and you can detect with a special apparatus which particles got through and which were reflected.
This fundamental insight into quantum randomness, Zeilinger explained, was the subject of a profound difference of opinion and landmark public debate between two of the greatest scientists of the last century - Albert Einstein and Niels Bohr.
"Einsten would not accept that anything was random. He is quoted as saying: 'God does not play dice–', prompting Bohr's response: 'Who are you to tell God how to run her business,'" Zeilinger joked at the well-attended sixth and final Vice-Chancellor's Open Lecture of the year on 25 October.
Zeilinger is professor of physics at the University of Vienna, Austria, and director of the Vienna branch of the Institute for Quantum Optics and Quantum Information at the Austrian Academy of Sciences.
In his address, titled Quantum Games and Quantum Information, he described how quantum physics provides possibilities for winning betting games that are otherwise impossible to win. These are related to the questions of the nature of reality and information in a quantum context.
He outlined some of the fundamental debates in quantum physics over the past century, and described how quantum physics was only referred to once in the 10 years that followed the initial debate, and once or twice in the next 10 years - but interest in the subject has now taken off exponentially. No less than 500 scientific papers referring to quantum physics by name have been published over the past decade.
Zeilinger, who in 2005 was named by leading British current affairs magazine New Statesman as one of the "10 people who could change the world", is also renowned for his realisation of quantum teleportation - moving a basic unit of quantum information, ie a qubit, from one location to another without the qubit ever being transmitted through the in-between space - with photons.
In the late 1980s he focused on quantum entanglement, which resulted in his most significant results and opened up the new fields of quantum teleportation, quantum information, quantum communication and quantum cryptography. Along with Daniel Greenberger and Michael Horne, he wrote the first paper on entanglement between two particles. The trio's GHZ Theorem - describing what's known as Greenberger-Horne-Zeilinger states - is fundamental to quantum physics.
---
This work is licensed under a Creative Commons Attribution-NoDerivatives 4.0 International License.
Please view the republishing articles page for more information.
---