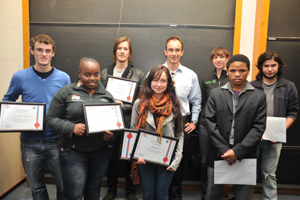 Computer wizards: Nick Longley (third, back row), of BSG, and Anita Iles of Entelect (fourth, back row) are flanked by some of merit award winners in the Department of Computer Science, back, left, Timothy Trewartha, Pierre Benz, and Marco Gallotta; Front, left, Zwivhuya Tshitovha, Nina Schiff and Zola Madolo.
Student Marco Gallotta's significant contribution attracting high-school learners into computer science has won him the Department of Computer Science's inaugural Social Responsiveness Award.
The accolade was one of two new acknowledgements introduced by the department at its annual Merit Awards function, held on 1 September and sponsored by Entelect Software.
The Achievement Award went to student Zola Madolo in recognition of the "longest distance" travelled in pursuing a career in computer science, despite personal adversity. Madolo touched a computer for the first time after arriving at UCT from a disadvantaged school in the Eastern Cape. With the help of the university's support structures, he is now doing well in Computer Science 3 and as a tutor for first-years.
Gallotta, who took over the technical side of the South African Computer Olympiad, has been involved in a number of outreach programmes that provide basic and advanced computer lessons to high-school and university students. These include the UCT Algorithm Circle, Umonya and Break the Rules. He was nominated as ICT Personality of the Year by the Computer Society of SA for these contributions.
At the event, the top five percent of students were awarded certificatesm the top student in each course receiving a class medal. Prizes were presented to the best second-year, third-year and honours students by Nick Longley, regional head of sponsors BSG (Africa).
---
This work is licensed under a Creative Commons Attribution-NoDerivatives 4.0 International License.
Please view the republishing articles page for more information.
---