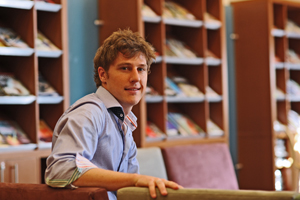 Civil talks: Matthew MacDevette (above) and Buhle Zuma hosted Potter seminars.
The David and Elaine Potter Fellowships, awarded to those with an interest in issues of concern to civil society, are a staple of postgraduate life at UCT. So, too, are the seminars that the master's and doctoral recipients are asked to host.
And there's been plenty of activity on that front in recent weeks.
On 17 August, Matthew MacDevette, a master's student in economics, hosted his seminar, titled Stimulating University-Industry and University-Community Engagement in Cape Town. In particular, MacDevette wanted to explore an area that he'd discovered is still largely untapped, ie partnerships between universities, on the one side, and NGOs and community initiatives on the other.
A few days later, doctoral student in social psychology Buhle Zuma hosted his seminar, On Transformation and Students' Interracial Relations at UCT: The contribution and limitation of academic disciplines. Here delegates discussed transformation at UCT, and the need for diversity literacy, while Zuma presented the first strands of a social-psychological theory of interracial relations.
And, this week, the just-established Potter Fellowship Committee - a mix of UCT Potter fellows past and present - launched PotterTalks. This forum, explained committee member Naadiya Moosajee, is intended to share ideas and new areas of research with the greater community, "not just UCT".
Over the three PotterTalks seminars between 30 August and 1 September, the committee mustered some 12 speakers from academia and interest groups, who discussed topics that fall within three broad areas of interest: science, technology and medicine; education; and sustainable development.
Early signs are that the PotterTalks will be a hit. Within 48 hours of posting invitations, all the seats at the venue, the Fugard Theatre in Cape Town, had been snapped up.
---
This work is licensed under a Creative Commons Attribution-NoDerivatives 4.0 International License.
Please view the republishing articles page for more information.
---