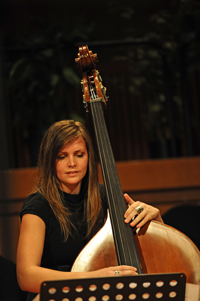 Jazzed up: Romy Brauteseth on bass.
The Vice-Chancellor's Concert at the Baxter Theatre Centre on 10 and 11 August featured a smorgasbord of talent from the South African College of Music (SACM), the performers and programme tailored to reflect a milestone in UCT's history this year: 125 years of women on campus.
Dubbed South Africa's 'Divine Diva', Aviva Pelham introduced each item on the programme, but first paid tribute to UCT's women pioneers. (Pelham herself is a pioneer, having performed at the Baxter since 1966. She still contributes to the SACM as a part-time staff member.)
Vice-chancellor Dr Max Price responded in kind in his welcome to staff, listing numerous luminaries among UCT's women staff and students, and noting that women make up 55% of the student body.
Each item was a highlight, from the quartet of flautists to Amanda Tiffin and the UCT Jazz Choir and UCT Jazz Voices, which showcased the vocal talents of Leah Adams, Margot de Bruyn, Sade Ross, Vuyo Sotashe and Chad Zerf. Alumna Kathleen Tagg performed works from Franz Liszt and Earl Wind.
Mindful of the theme when he introduced the Opera School, director Professor Kamal Khan was apologetic: "Opera is often about giving women a hard time!" he quipped.
The school's riches underscored Pelham's observation that "the world is snapping up our students".
To end the evening, Dizu Plaatjies and his troupe of drummers and dancers saturated the concert hall with their rhythms and energy. Plaatjies runs an after-school programme to empower young women and his young dancers. Now to find a way to bottle that energy.
---
This work is licensed under a Creative Commons Attribution-NoDerivatives 4.0 International License.
Please view the republishing articles page for more information.
---