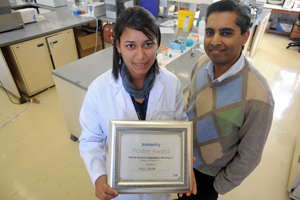 Breakthrough: Malika Davids, here with supervisor Prof Keertan Dheda, caused a stir at a recent immunology conference.
Malika Davids, a doctoral student in UCT's Lung Infection and Immunity Unit in the Department of Medicine, certainly had her fellow delegates sitting up and taking notice of her poster presentation at the recent World Immune Regulation Meeting V in Davos, Switzerland.
In keeping with the conference theme, Davids' poster covered her own work on immune regulation, but specifically in patients with extensively drug-resistant tuberculosis. Also known as XDR-TB, this is a strain of TB that Davids' supervisor, Professor Keertan Dheda, calls "virtually untreatable and probably one of the biggest health threats facing the African continent in the 21st century".
Davids had a couple of novel findings to share at the conference. Such as that, in patients with XDR-TB, a newly discovered T helper cell known as a T helper 17 (or Th17) is produced not by a group of white blood cells (or T cells) known as CD4, but by another known as CD8. (CD4 T cells are the ones targeted, notably, by the HIV virus.)
Because T helper cells are key to the immune system, that finding could have all kinds of if-yet-unknown implications for the treatment of XDR-TB.
Of even more interest though was Davids' finding on regulatory T cells, or Treg, so called because they regulate the immune response of other cells to prevent, especially, excessive and so potentially harmful immune-system reactions to infections.
In patients with other forms of TB infection, these regulatory T cells - "master cells", Dheda dubs them - make up only about 5% of CD4 T cell count in the immune system. In XDR-TB, however, they form between 15% and 20% of CD4 T cells and, as has been shown in the lab, has a part to play in killing the mycobacterium responsible for tuberculosis.
What these high levels of regulatory T cells mean for XDR-TB infection or treatment is still to be determined. But it is a noteworthy discovery, as Davids quickly found out at the conference.
"I got a lot of questions from people," she recalls.
She also got something else: the best poster award in the development of effector and regulatory T cells category, made by the journal Immunity.
---
This work is licensed under a Creative Commons Attribution-NoDerivatives 4.0 International License.
Please view the republishing articles page for more information.
---