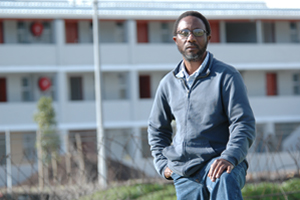 Uncharted territory: Prof Lungisile Ntsebeza of the Department of Sociology.
If the university is serious about transformation and the practical realisation of UCT's Afropolitan ideals, it must necessarily embark on initiatives that traverse unchartered territory, says Professor Lungisile Ntsebeza of the Department of Sociology.
Ntsebeza heads up the Faculty of Humanities' task team assigned to explore the way forward with regard to the operational and intellectual location of the Centre for African Studies (CAS) at UCT (see article.)
The current issue flows from an administrative imperative to make small departments more sustainable, including CAS.
"There were justifiable concerns that the closing of CAS would be a political blunder, even if there were sound academic and financial reasons for doings so," he said. "The dean, Prof Paula Ensor, listened to those arguments and set up a task team to explore proposals about the location of CAS."
Ntsebeza says that there is also an intellectual argument that the study of Africa is all-encompassing and spans every discipline, and that it should not be confined to one department.
The way this issue is resolved, he adds, will be an indication of how UCT will give meaningful expression to Afropolitan policy.
"I have looked at whether UCT has ever committed itself to an Afrocentric approach, and whether UCT has ever put Africa at the centre of its activities. I came to the conclusion that, as an institution, this was not the case. But in the process of setting up the task team, I discovered there were key players within departments across campus that are committed to those Afrocentric ideals and that there were members within the task team who were part of that group."
He says that the task team ended up thinking beyond the immediate operational location of CAS and came up with the idea of establishing a bigger structure that could incorporate smaller departments studying elements of Africa.
"Ultimately, it makes sense to bring together relevant departments and individuals into a school whose focus would be to foreground Africa in their research, teaching and social responsiveness."
He added: "At the Humanities Faculty Forum on February 25 it became clear that there are people in humanities who have made interesting investments on the continent in terms of teaching and research and these academics were in departments across the board, not just those in departments like African Studies or the African Gender Institute. They also came from English, religious studies and other departments. Those academics who were affiliated with the latter departments asked the questions: "What will happen to us? Will we be left out?"
Their concerns are valid, says Ntsebeza, and that the establishment of a school will provide a space and forum to collaborate around issues that concern Africa.
A school would present the additional advantage of flexibility in that not everyone would have to be a full-time member. There is also the possibility of making joint appointments with colleagues from other departments which will help facilitate cross-disciplinary research.
Ntsebeza says critics of the idea of a school argue that this research is happening anyway, but that the study of Africa needs to be centrally co-ordinated and driven also.
"The structural constraints present in departments mean that this could not be accomplished at a departmental level. There has to be interaction within the humanities faculty as well as across the faculties."
In conclusion, he says, whatever the outcome with regard to CAS and the study of Africa, UCT must ensure that resulting research findings are widely disseminated to students and to the broader society.
---
This work is licensed under a Creative Commons Attribution-NoDerivatives 4.0 International License.
Please view the republishing articles page for more information.
---